Foden Coach is Britain's Hope 1 m.p.h. More Would in
23rd May 1952
Page 38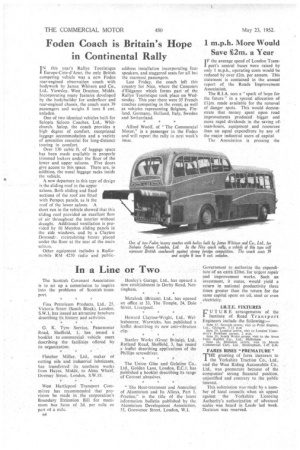 Page 38, 23rd May 1952 —
Foden Coach is Britain's Hope 1 m.p.h. More Would in
Close
Continental Rally Save £2m. a Year IN this year's Rallye Touristique Europe-Cote-d'Azur, the only British competing vehicle was a new Foden rear-engined observation coach with bodywork by James Whitson and Co., Ltd., Yiewsley, West Drayton, Middx. Incorporating many features developed by the bodybuilder for underfloor and rear-engined chassis, the coach seats 39 passengers and weighs 8 tons 8 cwt. unladen.
One of two identical vehicles built for Salopia Saloon Coaches, Ltd., Whitchurch. Salop, the coach provides a high degree of comfort, exceptional luggage accommodation and a variety of amenities essential for long-distance touring in comfort.
Over 130 cubic ft. of luggage space has been made available in properly trimmed lockers under the floor of the lower and upper saloons. Five doors give access to this space. There are, in addition, the usual luggage racks inside the vehicle.
'A new departure in this type of design is the sliding roof in the tapper saloon. Both sliding and fixed sections of the roof are fitted with Perspex panels, as is the roof of the lower saloon. A short run in the vehicle showed that th:s sliding roof provided an excellent flow of air throughout the interior without draught. Additional ventilation is provided by 10 Moydon sliding panels in the side windows, and by a Clayton Dewanclr, recirculating heater placed under the floor at the rear of the main saloon.
Other equipment includes a Radiomobile •R M 4250 radio and public address installation incorporating four speakers, and staggered seats for all but the rearmost passengers.
Last Friday, the coach left this country for Nice, where the Concours d'Eldgance which forms part of the Rallye Touristique took place on Wednesday. This year there were 35 French coaches competing in the event, as well as vehicles representing Belgium, Finland, Germany, Holland, Italy, Sweden and Switzerland.
Alfred Woolf, of "The Commercial Motor," is a passenger in the Foden and will report the rally in next week's issue,
IF the average speed of London Trans]. port's central buses were raised by only I m.p.h., operating costs would be reduced by over £2m. per annum. This statement is contained in the annual report of the Roads Improvement Association.
The R.I.A. sees a "spark of hope for the future" in a special allocation of £1 im. made available for the removal of danger spots. This would demonstrate that money spent upon road improvements produced 'bigger and more rapid dividends in the saving of, man-hours, equipment and resources than an equal expenditure by any of the major industrial users of capital.
The Association is pressing the