Export Business' Growing Growing Precarious
23rd May 1952
Page 36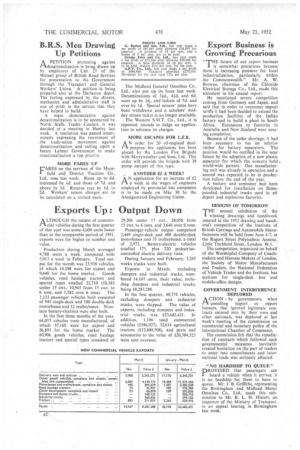 Page 36, 23rd May 1952 —
Export Business' Growing Growing Precarious
Close
Keywords :
" THE future of our export business
1 is somewhat precarious because there is increasing pressure for local industrialization, particularly within the Commonwealth." Mr. A. W. Browne, chairman of the Chloride Electrical Storage Co., Ltd., made this statement in his annual report.
He mentioned severe competition coming from Germany and Japan, and said that in order to overcome import tariffs it had been decided to extend the production facilities of the Indian factory and to build a plant in South Africa. Extensions to factories in Australia and New Zealand were nearing completion.
Because of the cedar shortage, it had been necessary to use an inferior timber for battery separators. The position would he rectified in the near future by the adoption of a new plastic separator for which the concern hold world-wide patents. One manufacturing unit was already in operation and a second was expected to be in production before the end of the year.
A battery and container had been developed for installation on flameproofed industrial trucks used in oil depots and explosives factories.
DESIGNS OF TOMORROW THE annual exhibition of the winning drawings and handiwork entered in the 1952 drawing and handicraft competition of the Institute of British Carriage and Automobile Manufacturers will be `held from June 4-7, at the Regent Street Polytechnic Annexe, Little Titchfield Street, London, W.I.
The competition, organized on behalf of the Worshipful Company of Coachmakers and Harness Makers of London, the Society of Motor Manufacturers and Traders, the National Federation of Vehicle Trades and the Institute, has sections for single-deck bus and mobile-office designs.
GOVERNMENT INTERFERENCE DEPLORED
ACTION • by governments, when annulling import or export licences, that ignored legitimate contracts entered hue by their own and other nationals, was deplored at last week's meeting of the commission on commercial and monetary policy of the International Chamber of Commerce.
The commission felt that the repudiation of contracts which followed such governmental measures inevitably created hesitation on the part of traders to enter into commitments and international trade was seriously affected.
"NO HARDSHIP TO QUEUE" PROVIDED that passengers can board a vehicle when it arrives, it is no hardship for them to have to queue. Mr. J. B. Griffiths, representing the Birmingham and Midland Motor Omnibus Co., Ltd., made this submission to Mr. R. L. H. Hiscott, an inspector of the Ministry of Transport, in an appeal hearing in Birmingham last week.