B.R.S. Men Drawing Up Petitions
23rd May 1952
Page 36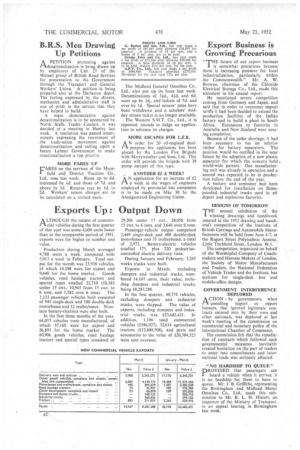 Page 36, 23rd May 1952 —
B.R.S. Men Drawing Up Petitions
Close
A PETITION protesting against ridenationalization is being drawn up by employees of Unit 21 of the Walsall group of British Road Services for presentation to the Government through the Transport and General
Workers' Union. A petition being prepared also at the Darlastort depot. The feeling expressed by the drivers, mechanics and administrative staff is one of pride in the service that they have helped to build.
A mass demonstration against denationalization is to be sponsored by North Staffs Trades Council, it was decided at a meeting in Hanley last week. A resolution was passed unanimously expressing the resentment of . the trade-union movement against denationalization and calling upon a future Labour Government to make renationalization a top priority.
MORE FARES UP
CARES on the services of the Mans' field and District Traction Co., Ltd., rose last week. Rates up to 6d. increased by Id. and those of 7d. and above by ld. Returns rose by Id. to 2d. Workers' return charges are to be calculated on a revised basis.
The Midland General Omnibus Co., Ltd., also put up its fares last week. Denominations of 3-1d., 44d. and 6d. went up by 44., and tickets of 7d. and over by ld. Special miners' rates have been withdrawn and a scholars' midday return ticket is no longer available.
The Western S.M.T. Co., Ltd., it is reported, intends to lodge an application to advance its charges.
MORE ESCAPES FOR L.F.B.
AN order for 20 oil-engined dualpurpose tire appliances has been placed by Ate London Fire Brigade with Merryweather and Sons, Ltd. This order will provide the brigade with 38 pump escapes of this type.
ANOTHER £2 A WEEK?
AN application for an increase of £2 a week in the wages of engineers employed by provincial bus companies is to be made on May 30 by the Amalgamated Engineering Union.