Sentinel Offers D.I. Engine A .DIRECT-INJECTION oil engine r. has been developed by Sentinel
23rd May 1952
Page 35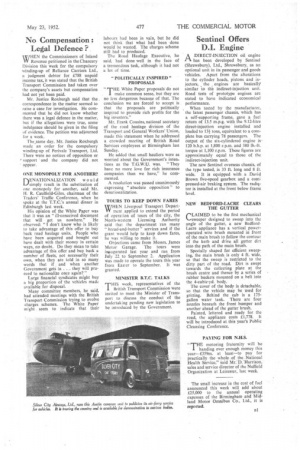 Page 35, 23rd May 1952 —
Sentinel Offers D.I. Engine A .DIRECT-INJECTION oil engine r. has been developed by Sentinel
Close
(Shrewsbury), Ltd., Shrewsbury, as an optional unit in its passenger and goods vehicles. Apart from the alterations to the cylinder heads, pistons and in jectors, the engines are basically similar to the indirect-injection unit.
Road tests of prototype engines are stated to have indicated economical performance.
, When tested by the manufacturer, the latest passenger chassis, which has a self-supporting frame, gave a fuel return of 13.5 m.p.g. with the 9.12-litre direct-injection engine installed and loaded to 13+ tons, equivalent to a complete bus carrying 78 passengers. The output of the six-cylindered engine is • 120 b.h.p. at 1,800 r.p.m. and 380 lb.-ft. torque at 1,100 r.p.m. These figures are approximately equal to those of the indirect-injection unit.
The new Sentinel overseas chassis, of the type tested, is 33 ft. long and 8 ft. wide. It is equipped with a David Brown five-speed gearbox and a corn pressed-air braking system. The radiator is installed at the front below frame level.
NEW REDFORD-LACRE CLEARS THE GUTTER
CLA1MED to be the first mechanical sweeper designed to sweep into the angle of the gutter, a new BedfordLure appliance has a vertical poweroperated wire brush mounted in front of the main brush to follow the contour of the kerb and drive all gutter dirt into the path of the main brush.
Specially shaped for efficient sweeping, the main brush is only 4 ft. wide, so that the sweep is restricted to the dirty part of the road. Dirt is swept towards the collecting plate at the brush centre and thence by a series of rubber buckets mounted on a belt into the 4-cubic-yd. body.
The cover of the body is detachable, so that the vehicle may be used for gritting. Behind the cab is a 175gallon water tank. There are four nozzles beneath the front bumper and another ahead of the gutter brush.
Painted, lettered and ready for the road, the appliance costs £1,778. It will be introduced at this year's Public Cleansing Conference.
PAYING FOR N.H.S.
" TIM motoring fraternity will be 1 handing over enough money this year-059m. at least—to pay for practically the whole of the Natiooal Health Service," Said Mr:D.-Harrison, sales and service director of the Nuffield Organization at Leicester, last week.
The small increase in the cost of fuel announced this week will add about £25,000 to the annual operating expenses of the Birmingham and Midland Motor Omnibus Co., Ltd., it is reported.