Men in the News
23rd May 1952
Page 34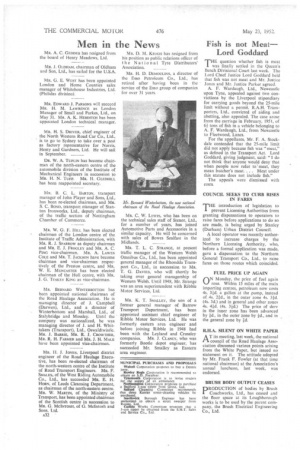 Page 34, 23rd May 1952 —
Men in the News
Close
Keywords :
MR. A_ C. GEDDES has resigned from the board of Henry Meadows, Ltd, MR. J. OLDHAM, chairman of Oldham and Son, Ltd., has sailed for the U.S.A.
MR. G. E. WEST has been appointed London and Home Counties sales manager of Whitehouse Industries, Ltd. (Philidas division).
MR. EDWARD J. PARSONS will succeed MR. H. M. LAWRENCE as London Manager of Small and Parkes, Ltd., on May 31. MR. A. K. Henorrai has been appointed London technical manager.
MR. H. S. DRIVER, chief engineer of the North Western Road Car Co., Ltd., is to go to Sydney to take over a post as factory representative for Norris, Henty and Gardners, Ltd. He will sail
in September.
DR. W. A. TUPLIN has become chairman of the north-eastern centre of the automobile division of the Institute of Mechanical Engineers in succession to MR. H. N. TUFF. MR. H. GLEDHILL has been reappointed secretary.
MR. B. C. L. BARTON, transport manager of John Player and Sons, Ltd., has been re-elected chairman, and MR. S. C. BOND, transport nianager of Stanton Ironworks, Ltd., deputy chairman, of the traffic section of Nottingham Chamber of Commerce.
MR. W. G. F. HILL has been elected chairman of the London centre of the Institute of Traffic Administration, with MR. R. J. SPARROW as deputy chairman and MR. E. J. FROGLEY and MR. A. C. PING vice-chairmen. MR. A. LAWES COLE and MR. T. JACKSON have become chairman and vice-chairman respectively of the Preston centre, and MR. W. E. MUNCASTER has been elected chairman of the Hull centre, with MR. J. G. TESKE.Y KING as vice-chairman.
MR. BERNARD WINTERROTTOM has been appointed national chairman of the Road Haulage Association. He is managing director of J. Campbell (Darwen), Ltd., and a director of Winterbottom and Marshall, Ltd., of Stalybridge and Mossley. Until the company was nationalized, he was managing director of J. and H. Whittakers (Transport), Ltd., Oswaldtwistle. MR. J. BARRIE, MR. R. J. CROWTHER, MR. R. H. FARMER and MR. J. H. MALE have been appointed vice-chairmen.
MR. El. J. JONES, Liverpool district engineer of the Road Haulage Executive, has been re-elected chairman of the north-western centre of the Institute of Road Transport Engineers. MR. F. SMALES, of the West Riding Automobile Co., Ltd., has succeeded MR. E. H. HORN, of Leeds Cleansing Department, as chairman of the north-eastern centre. MR. W. MARTIN, of the Ministry of Transport, has been appointed chairman of the Scottish centre in succession to MR. G. MCINTOSH, of G. McIntosh and Sons, Ltd.
A32
MR. C. W. Lewis, who has been on the technical sales staff of Stenor, Ltd., for a number of years, has joined Automotive Parts and Accessories in a similar capacity. He will be concerned with sales of Bowes Sealfast in the Midlands. - MR. T. L. C. STRANGE, at present traffic manager of the Western Welsh Omnibus Co., Ltd., has been appointed general manager of the Rhondda Transport Co., Ltd., in succession to MR. T. G. DaviEs, who will shortly be taking over general managership of Western Welsh. Until 1948, Mr. Strange was an area superintendent with Ribble Motor Services, Ltd. MR. D. M. KEOGH has resigned from his position as public relations officer of the National Tyre Distributors' Association.
MR. H. D. DEMOULINS, a director of the Esso Petroleum Co., Ltd., has retired after having been in the service of the Esso group of companies for over 31 years, MR. K. T. SMALLEY, the son of a former general manager of Barrow Transport Department, has been appointed assistant chief engineer of Ribble Motor Services, Ltd. He was formerly eastern area engineer and before joining Ribble in 1948 had been with the Leyland and Crossley companies. MR. J. CLANCY, who was formerly Bootie depot engineer, has succeeded Mr. Smalley as Eastern area engineer.
Fish is not Meat— Lord Goddard
THE question whether fish is meat was finally settled in the Queen's Bench Divisional Court last week. The Lord Chief Justice Lord Goddard held that fish was not meat and Mr. Justice Jones and Mr. Justice Parker agreed.
A F. Wardaugh, Ltd., Newcastle upon Tyne, appealed against two convictions by the Liverpool stipendiary for carrying goods beyond the 25-mile limit without a permit. R.A.H. Transporters, Ltd., convicted of aiding and abetting, also appealed. The case arose from the carriage in February, 1951, of 6i tons of fish in a vehicle belonging to A. F. Wardaugh, Ltd., from Newcastle to Fleetwood, Lancs.
For the appellants, Mr. F. A. Stockdale contended that the 25-mile limit did not apply because fish was "meat," as defined in the Transport Act. Lord Goddard, giving judgment, said: "1 do not think that anyone would deny that when people now refer to' meat, they mean butcher's meat. . Meat under this statute does not include fish." The appeals were dismissed with costs.
COUNCIL SEEKS TO CURB RISES IN FARES
THE introduction of legislation to prevent Licensing Authorities from granting dispensations to operators to raise fares before applications to do so are made, is being urged by Stanley (Durham) Urban District Council.
A local operator was recently authorized to increase charges by the Northern Licensing Authority, who, before a formal application was made, gave a dispensation to the Northern General Transport Co., Ltd., to raise fares on those routes which coincided.
FUEL PRICE UP AGAIN
ON Monday, the price of fuel again rose. Within 15 miles of the main importing centres, petroleum now costs 4s. 3id. a gallon at the pump, instead of .4s. nd., in the outer zone 4s. Rd. (4s. 3d.) and in general and other zones 4s, 40. (4s. 30.) The price of dery in the inner zone has been advanced by id., in the outer zone by id., and in the general zone by id.
R.H.A. SILENT ON WHITE PAPER
A T its meeting, last week, the national council of the Road Haulage Association discussed various points arising from the White Paper, but issued no statement on it. The attitude adopted by Mr. Frank F. Fowler (at that time national chairman) at the Association's annual luncheon, last week, was endorsed.
BRUSH BODY OUTPUT CEASES
PRODUCTION of bodies by Brush Coachworks, Ltd., has ceased and the floor space at its Loughborough works is to be used by the parent company, the Brush Electrical Engineering Co., Ltd.
Tags
Organisations
:
Leeds Cleansing Department
,
Urban District Council
,
Northern Licensing Authority
,
Institute of Traffic Administration
,
Institute of Mechanical Engineers
,
Nottingham Chamber of Commerce
,
Institute of Road Transport Engineers
,
Road Haulage Association
,
Queen's Bench Divisional Court
,
Ministry of Transport
,
U.S.A. MR
People
:
J. G. TESKE
,
A. LAWES COLE
,
A. C. PING
,
R. H. FARMER
,
C. STRANGE
,
E. J. FROGLEY
,
T. G. DaviEs
,
R. J. CROWTHER
,
EDWARD J. PARSONS
,
BERNARD WINTERROTTOM
,
W. A. TUPLIN
,
H. M. LAWRENCE
,
K. T. SMALLEY
,
C. GEDDES
,
H. D. DEMOULINS
,
Frank F. Fowler
,
A. K. Henorrai
,
T. JACKSON
,
W. E. MUNCASTER
,
H. S. DRIVER
,
S. C. BOND
,
H. N. TUFF
,
E. H. HORN
,
D. M. KEOGH
,
F. SMALES
,
W. MARTIN
,
H. GLEDHILL
,
F. A. Stockdale
,
C. L. BARTON
,
G. E. WEST
,
C. W. Lewis
,
R. J. SPARROW
,
Parker