One Hears—
23rd May 1952
Page 31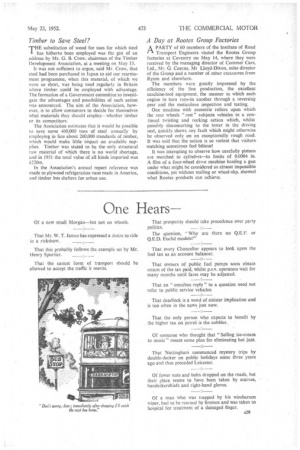 Page 31, 23rd May 1952 —
One Hears—
Close
Of a new small Morgan—but not on wheels.
That Mr. W. T. James has expressed a desire to ride in a rickshaw.
That this probably follows the example set by Mr. Henry Spurrier.
That the easiest form of transport should be allowed to accept the traffic it merits.
That prosperity should take precedence over party politics. 0' The question, "Why are there no Q.E.F. or Q.E.D. Euclid models?"
That every Chancellor appears to look upon the fuel tax as an account balancer.
That owners of public fuel pumps soon obtain return of the tax paid, whilst p.s.v. operators wait for many months until fares may be adjusted.
That an "omnibus reply" to a question need not refer, to public service vehicles.
That deadlock is a word of sinister implication and is too often in the news, just now.
That the only person who expects to benefit by the higher tax on petrol is the cobbler.
Of someone who thought that "Selling ice-cream to music" meant some plan for eliminating hot jazz.
That Nottingham commenced mystery trips by double-decker on publie holidays some three years ago and thus preceded Leicester.
Of fewer nuts and bolts dropped on the roads, but their place seems to have been taken by scarves, handerkerehiefs and right-hand gloves.
Of a man who was trapped by his windscreen wiper, had to be rescued by firemen and was taken to hospital for treatment of a damaged finger.