Passing Comments
23rd May 1952
Page 30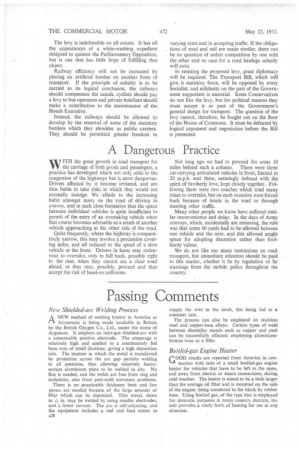 Page 31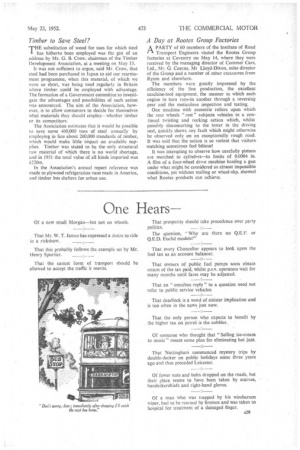 Page 30, 23rd May 1952 —
Passing Comments
Close
New Shielded-arc Welding Process A NEW method of welding known in America as Aircomatic is being made available in Britain by the British Oxygen Co., Ltd., under the name of Argonaut. It employs an inert-gas shielded-arc with a consumable positive electrode. The amperage is relatively high and applied to a continuously fed bare wire of small diameter, giving a high deposition rate. The manner in which the metal is transferred by projection across the arc gap permits welding in all positions, thus allowing relatively heavysection aluminium plate to be welded in situ. No flux is needed, and the welds are free from slag and inclusions, also from post-weld corrosion problems.
There is no practicable thickness limit and few passes are needed because of the large amount of filler which can be deposited. Thin metal, down
to in. may be welded by using smaller electrodes, and a lower current. The arc is self-adjusting, and the equipment includes a reel and feed motor to A28 supply the wire to the torch, this being fed at a constant rate.
The process can also be employed on stainless steel and copper-base alloys. Certain types of weld between dissimilar metals such as copper and steel can be successfully effected, employing aluminiumbronze wire as a filler.
Bottled-gas Engine Heater
r_OOD results are reported from America in con nection with tests of a small bottled-gas engine heater for vehicles that have to be left in the open, and away from electric or steam connections, during cold weather. The heater is stated to be a little larger than the average oil filter and is mounted on the side of the engine, being connected to the block by rubber hose. Using bottled gas, of the type that is employed for domestic purposes in many country districts, the unit provides a ready form of heating for use in any situation.
Timber to Save Steel?
THE substitution of wood for uses for which steel has hitherto been employed was the gist of an address by Mr. G. B. Crow, chairman of the Timber Development Association, at a meeting on May 13.
It was not sufficient to argue, said Mr. Crow, that steel had been purchased in Japan to aid our rearmament programme, when this material, of which we were so short, was being used regularly in Britain where timber could be employed with advantage. The formation of a Government committee to investigate the advantages and possibilities of such action was announced. The aim of the Association, however, is to allow consumers to decide for themselves what materials they should employ—whether timber or its competitors.
The Association estimates that it would be possible to save some 460,000 tons of steel annually by employing in lieu about 200,000 standards of timber, which would make little impact on available supplies. Timber was stated to be the. only structural raw material of which there is no world shortage, and in 1951 the total value of all kinds imported was £220m.
In the Association's annual report reference was made to plywood refrigeration vans made in America, and timber bus shelters for urban use.
A Day at Rootes Group Factories
APARTY of 60 members of the Institute of Road Transport Engineers visited the Rootes Group factories at Coventry on May 14, where they were received by the managing director of Commer Cars, Ltd., Mr. G. Cozens, Mr Lloyd-Dixon, sales director of the Group and a number of other executives from Ryton and elsewhere.
The members were greatly impressed by the efficiency of the line production, the excellent machine-tool equipment, the manner in which each engine in turn runs-in another through a reversing gear and the meticulous inspection and testing.
One machine with eccentric rollers upon which the rear wheels " rest " subjects vehicles to a continual twisting and rocking action which, whilst possibly disconcerting to the tester in the driving seat, quickly shows any fault which might otherwise be observed only on an exceptionally rough road. It was said that the action is so violent that visitors watching sometimes feel bilious!
It was interesting to observe how carefully pistons are matched to cylinders—to limits of 0.0004 in. A film of a four-wheel drive machine hauling a gun under what might be considered as almost impossible conditions, yet without stalling or wheel-slip, showed what Rootes products can achieve.