A Dangerous Practice
23rd May 1952
Page 30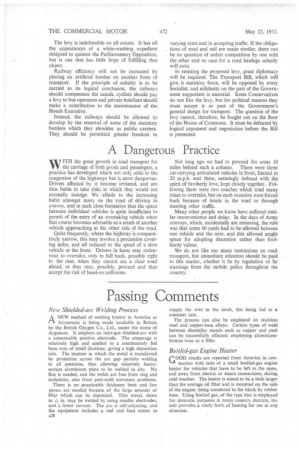 Page 30, 23rd May 1952 —
A Dangerous Practice
Close
WITH the great growth in road transport for the carriage of both goods and passengers, a practice has developed which not only adds to the congestion of the highways but is most dangerous. Drivers affected by it become irritated, and are thus liable to take risks in which they would not normally indulge. We • allude to the increasing habit amongst many on the road of driving in convoy, and in such close formation that the space between individual vehicles is quite insufficient to permit of the entry of an overtaking vehicle when that course becomes advisable as a result of another vehicle approaching at the other side of the road.
Quite frequently, where the highway is comparatively narrow, this may involve a procession covering miles, and all reduced to the speed of a slow vehicle at the front. Drivers in haste may endeavour to overtake, only to fall back, possibly right to the rear, when they cannot see a clear road ahead, or they may, possibly, proceed and thus accept the risk of head-on collisions. Not long ago we had to proceed for some 10 miles behind such a column. There were three car-carrying articulated vehicles in front, limited to 20 m.p.h. and these, seemingly imbued with the spirit of brotherly love, kept closely together. Following them were two coaches which tried many times to overtake, but on each occasion were forced back because of bends in the road or through meeting other traffic.
Many other people we know have suffered similar inconvenience and delay. In the days of Army convoys, which, incidentally are returning, the rule was that some 60 yards had to be.allowed between one vehicle and the next, and this allowed ample space for adopting discretion rather than foolhardy valour.
We do not like too many restrictions on road transport, but immediate attention should be paid to this matter, whether it be by regulation or by warnings from the mobile police throughout the country.