Transport Services Entertains Subsidiaries .
23rd June 1944
Page 20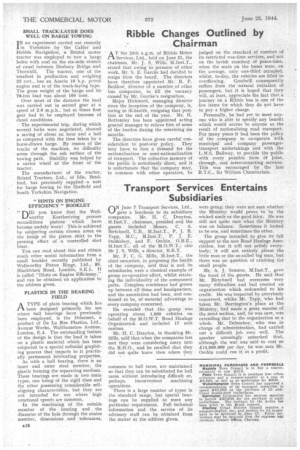 Page 20, 23rd June 1944 —
Transport Services Entertains Subsidiaries .
Close
Keywords :
ON June 7 Transport Services, Ltd., gave a luncheon to its subsidiary companies. Mr. H. C. Drayton, M.Inst.T., chairman, presided and the guests included Messrs. C. A. 13irtchnell, -C.B.,• M.Inst.T., P. J. R. Tapp, M.C., M.Inst.T., P. J. E. Dalmahoy, and F. Orchin, 0.B.E., M.Inst.T., all of the M.O.W.T.; also Mr J. S. Wills, a director, B.E.T.
Mr, F. C. G. Mills, M.Inst.T., the chief executive, in proposing the health of the company, said that it and its subsidiaries were a classical example of group co-operative-effort, whilst retaining the individuality of the component parts. Complete confidence had grown up between all these and headquarters, and the association had been, and continued to be, of material advantage to every company concerned.
He revealed that the group was operating about 1,500 vehicles on behalf of the M.O.W.T. Road Haulage Organization and included 17 unit centres.
Mr. H. C. Drayton, in thanking Mr. Mills, said that when the companies last met they were considering entry into the R.H.O., and he recalled that they did not quite know then where they were going; they were not sure whether the Ministry would prove to be the wicked uncle or the good fairy. He was still not quite sure what the Ministry was on balance. Sometimes it looked to be one, and sometimes the other.
The group intended to give its full support to the new Road Haulage Association, but it will not satisfy everybody; it will not entirely please the little man or the so-called big man, but there was no question of crushing the small people.
Mr. A. J. Samson, M.Inst.T., gave the toast of the guests. He said that Mr. Birtchnell had overcome very many difficulties and had created an organization which redounded to his credit. He was respected by everybody concerned, whilst Mr. Tapp, who had taken Mr. Barrington's place at the Ministry, had made a great success of the meat section, and, he was sure, was extending that to the organization as a whole. Mr. Dalmahoy, who was in charge of administration, had carried out a difficult job very well. The speaker amusingly remarked that, although the war was said to cost us 414,000,000 per day, he was sure Mr. Orchin could run it at a profit.