"A Folly Restrict
23rd June 1944
Page 19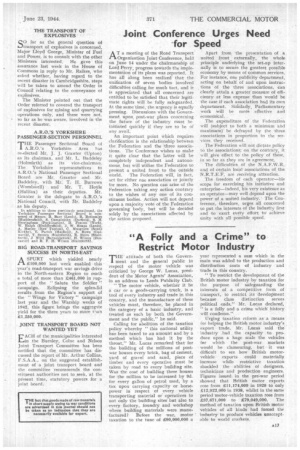 Page 19, 23rd June 1944 —
"A Folly Restrict
Close
and a Crime" to Motor Industry
THE' attitude of both the Govern ment and the general public in respect of the motor vehicle was criticized by George W. Lucas, president of the Motor Agents' Association, in an address to Leeds Publicity Club.
" The motor vehicle, whether it be a car or a goods-carrying truck, is a tool of every industry and trade in this country, and the manufacture of these vehicles must, therefore, be placed in the category of a basic industry, and treated as such by both the Government and the public," he said.
Calling for abolition of the taxation policy whereby " this national utility has been taxed to an amount and by a method which has had it by the throat," Mr. Lucas remarked that for the building of the millions of postwar houses every brick, bag of cement, yard of gravel and sand, piece of timber and every operative must be taken by road to every building site. Was the cost of building -these houses for the million to be increased by 9d. for every gallon of petrol used, by a tax upon carrying capacity or horsepower in respect of every vehicle transporting material or operatives to not only the building site but also to -every factory, foundry and workshop 'where building materials were rnanu
• factured? before the war, motor taxation to the tune of £90,000,000 a year represented a sum which in the main was added to the production and distribution costs of industry • and trade in this country.
" To restrict the development of the • British motor industry, by taxation for the purpose of safeguarding the interests of a competitive form of transport,. to restrict its development because class distinction serves political ends," Mr. Lucas declared. " is a folly and a crime which' history will condemn."
Urging taxation reform as a means for helping the British motor industry's export trade, Mr. Lucas said the industry had the capaeity to produce upon a huge scale the vehicles for which the post-war markets would be clamouring, but it was difficult to see how British motorvehicle exports could materially increase while restrictive taxation shackled the abilities of designers, technicians and production engineers. Figures issued in the pre-war period allowed that British motor exports rose from £11,174,000 in 1929 to only 212,922,000 in 1938, whilst in the same period motor-vehicle taxation rose from £37,671,000 to £79,049,000. The method of taxation upon British motor vehiCles of all kinds had forced the industry to produce vehicles unacceptable to world markets,