Passing Comments
23rd June 1944
Page 16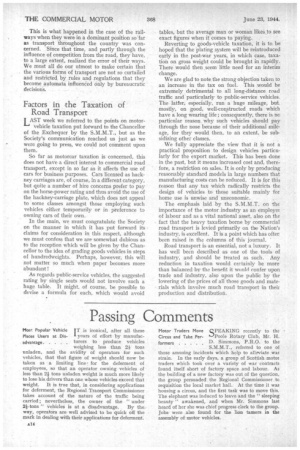 Page 17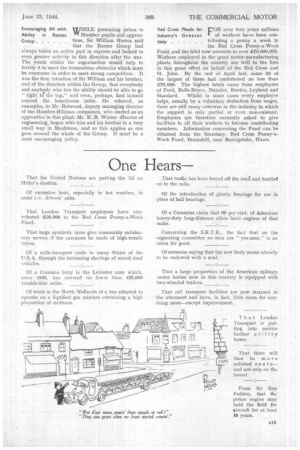 Page 16, 23rd June 1944 —
Passing Comments
Close
Most Popular Vehicle IT is ironical, after all these Places Users at DisI years of effort by manufacturers to produce vehicles weighing less than 2i tons unladen, and the avidity of operators for such vehicles, that that figure of weight should now be taken as a limiting linefor the deferment. of employees, so that an operator owning vehicles of less than 2i tons unladen, weight is much more likely to lose his drivers than one whose vehicles exceed that
weight. It is true that, in considering applications for deferment, the Regional Transport Commissioner takes account of the nature of the traffic being carried; nevertheless, the owner of the " under 2k-tons" vehicles is at a disadvantage. By the. way, way, operators are well advised to be quick off the mark in dealing with their applications for deferment. advantage
Motor Traders Move QPEAKING recently to the Circus and Take. Per"Poole Rotary Club, Mr. H.
formers D. Simmons, P.R.O. to the S.M.M.T., referred to one of those amusing incidents which help to alleviate war strain. In the early days, a group of Scottish motor traders which took over a variety of war contracts found itself short of factory space and labour. As the building of a new factory was out of the question, the group persuaded the Regional Commissioner to requisition the local market hall. At the time it was housing a circus, and the first task was to move this. The elephant was induced to leave and the " sleeping beauty" awakened, and when Mr. Simmons last heard of her she was chief progress clerk to the group. jobs were also found for the lion tamers in the assembly of motor vehicles. Encouraging Al! with WHILE presenting prizes to Ability in Rootes Humber pupils and appren Group tices, Sir William Rootes said that the Rootes Group had always taken an active part in exports and looked to even greater activity in this direction after the war. The youth Within the organization would help to fortify it to meet the tremendous obstacles which must be overcome in order to meet strong competition. It was the firm intention of Sir William and hi S brother, and of the directors within the Group, that everybody and anybody who has the ability should be able to go "Tight to the top," and even, perhaps, find himself around the boardroom table. He referred, as examples, to Mr. Botwood, deputy managing director of the Humber-Hillman companies, who started as an apprentice in this plant; Mr. B. B. Winter director of engineering, began with him and his brother in a very small way in Illaidstone, and so this applies as one goes around the whole of the Group. It must be a most encouraging policy.
Red Cross Pleads .for roR over four years millions
Industry's Greater of workers have been con Help tributing a penny a week tO
the Red Cross Penny-a-Vileek Fund, and the tOtal now amounts to over £10;000,000. Workers employed in the great inot6r-manufacturing plants throughout the country are. well to the fore in this great effort on behalf of the Red Cross and St. John. By the end of. April last, some 30 of the largest of these had contributed no less than 278,000. The highest totals came from employees of Ford, Rolls-Royce, Daimler, Rootes, Leyland and
Standard. Whilst in some cases every employee helps, usually by a voluntary deduction, from wages, there are still many concerns in the industry in which the support is only partial or even non-existent. Employers are therefore earnestly asked to give facilities to all their workers to become contributing members. Information concerning the Fund can. be obtained from the Secretary, Red Cross Penny-aWeek Fund, Bramshill, near Basingstoke, Hants. .