Rural bus 'dialogue'
23rd July 1971
Page 41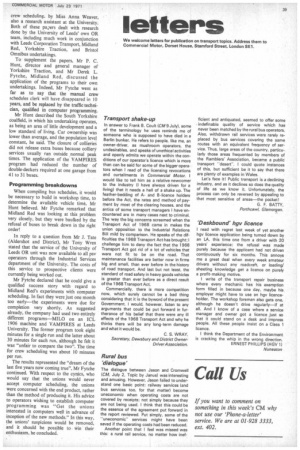 Page 41, 23rd July 1971 —
Rural bus 'dialogue'
Close
The dialogue between Jason and Cromwell (CM, July 2, Topic by Janus) was interesting and amusing. However. Jason failed to understand one basic point: railway services land bus services too, for that matter) become uneconomic when operating costs are not covered by receipts; not simply because they are not being used. I think that this could be the essence of the agreement put forward in the report reviewed. Put simply, some of the "uneconomic" services might have been saved if the operating costs had been reduced.
Another point that I feel was missed was this: a rural rail service, no matter how inef
ficient and antiquated, seemed to offer some indefinable quality of service which has never been matched by the rural bus operators. Also, withdrawn rail services were rarely replaced by bus services covering the same routes with an equivalent frequency of service. Thus, large areas of the country, particularly those areas frequented by members of the Ramblers' Association, became a public transport "desert". I could quote instances of this, but sufficient be it to say that there are plenty of examples in Wales.
Let's face it! Public transport is a declining industry, and as it declines so does the quality of life as we know it. Unfortunately, the process can only be reversed by appealing to that most sensitive of areas—the pocket! G. F. BATTY, Porthcawl, Glamorgan.