In a Line or Two
23rd July 1954
Page 53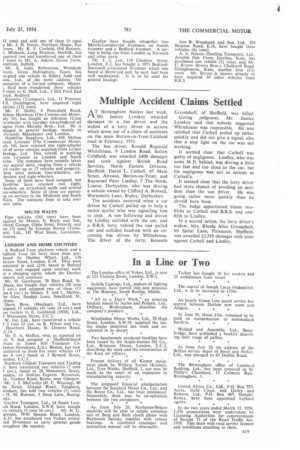 Page 53, 23rd July 1954 —
In a Line or Two
Close
Keywords :
The London office of Vokes, Ltd., is now at 123 Victoria Street London, S.W,I, *
Judella Castings, Ltd. makers of lighting equipment, have moved into new premises at The Runway, South Ruislip, Middx.
" All in a Day's Work," an amusing booklet issued by Accies and Pollock, Ltd., Oldbury, . Birmingham, describes the company's products.
Wimbledon Motor Works, Ltd., 29 High Street, London, S.W.19, supplied the racing tender described last week and cooperated in its design. ..
Two handsomely produced booklets have been issued by the Anglo-Iranian Oil Co., Ltd., Britannic House, London, E.C.2, describing the work and the construction of the Kent oil refinery.
Prompt delivery of all Kismet equipment made by William Turner (Kismet), Ltd., Eyre Works, Sheffield, I, can now be made as the result of an expansion in manufacturing capacity.
The proposed financial amalgamation between the Standard Motor Co., Ltd., and the Rover Co., Ltd., has been postponed. Meanwhile, there may be co-operation between the two companies.
As from July 26, Raybestos-13elaco stockists will be able to supply complete sets of Borg and Beck clutch plates with Raybestos facings, together with release bearings. A combined catalogue and instruction manual will be obtainable. Turkey has bought 10 tire tenders and 25 ambulances from Israel.
The capital of Joseph Lucas (Industries). Ltd., is to be increased to £15m.
An hourly Green Line coach service has started between Harlow new town and
Aldgate. * At June 30, about Elm. remained to he paid as compensation to nationalized hauliers. * * Weldall and Assembly, Ltd., Stourbridge, have published a booklet describing their range of pallets.
As from July 20 the address of the Belfast service depot of Small and Parkes. Ltd., was changed to 67 Dublin Road.
The Birmingham office of Lombard Banking, Ltd., has been removed to St. Philip's Chambers, 13 Colmore Row, Birmingham, 3.
United Africa Co., Ltd., P.O. Box 775, Accra, Gold Coast. and Gailey and Roberts, Ltd., P.O. Box 667, Nairobi. Kenya, have been appointed Leyland agents.
In the two years ended March 31, 1954, 1.074 prosecutions were undertaken by Licensing Authorities for contraventions of Section 72 of the Road Traffic Act, 1910. This deals with road service licences and conditions attaching to them.