" Newcomer," 26 Years in Haulage, Refused Licence
23rd July 1954
Page 37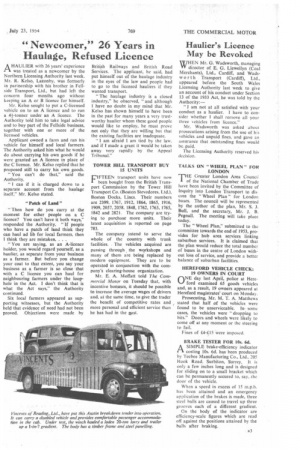 Page 37, 23rd July 1954 —
" Newcomer," 26 Years in Haulage, Refused Licence
Close
AHAULIER with 26 years' experience was treated as a newcomer by the Northern Licensing Authority last week. Mr. R. Kelso, Lazonby, was formerly in partnership with his brother in Fellside Transport, Ltd., but had left the concern four months ago without keeping an A or B licence for himself.
Mr. Kelso sought to put a C-licensed vehicle on to an A licence and to run a 4-j-tonner under an A licence. The Authority told him to take legal advice and to buy part of the Fellside business, together with one or more of the licensed vehicles.
Applicant owned a farm and ran his vehicle for himself and local farmers. The Authority asked him what he would do about carrying his own goods if he were granted an A licence in place of the C licence. Mr. Kelso replied that he proposed still to carry his own goods.
"You can't do that," said the Authority.
"I can if it is charged down to a separate account from the haulage itself," Mr. Kelso stated.
"Patch of Land" " Then how do you carry at the moment for other people on a C licence? You can't have it both ways," responded the Authority. "If people who have a patch of land think they can haul ad lib for local farmers, then I think they are mistaken. . . . "You are saying, as an A-licence holder, you would regard yourself, as a haulier, as separate from your business as a farmer. But before you change your coat to that extent, you say your business as a farmer is so close that with a C licence you can haul for neighbouring farmers under the loophole in the Act. I don't think that is what the Act says," the Authority continued.
Six local farmers appeared as supporting witnesses, but the Authority held that evidence of need had not been proved. Objections were made by British Railways and British Road Services. The applicant, he said, had put himself out of the haulage industry in the eyes of the law and people had to go to the licensed hauliers if they wanted transport.
"The haulage industry is a closed industry," he observed, "and although I have no doubt in my mind that Mr. Kelso has shown himself to have been in the past for many years a very trustworthy haulier whom these good people would like to employ, he must prove not only that they are willing but that the existing facilities are inadequate. "1 am afraid I am tied by the law, and if I made a grant it would be taken away very rapidly by the Appeal Tribunal" TOWER HILL TRANSPORT BUY 15 UNITS
FFTEEN transport units have now I been bought from the British Transport Commission by the Tower Hill Transport Co. (Boston Stevedores, Ltd.), Boston Docks, Lincs. Their numbers are 2399, 1767, 1912, 1864, 1865, 1916, 1909, 2057, 2058. 1848, 1762, 1763, 1765, 1842 and 2821. The company are trying to purchase more units. Their latest acquisition is reported on page 783.
The company intend to serve the whole of the country with trunk facilities. The vehicles acquired are passing through the wqrkshops and many of them are being replaced by modern equipment. They are to be operated in conjunction with the company's clearing-house organization.
Mr. E. A. Moffatt told The Commercial Motor on Tuesday that, with incentive bonuses, it should be possible to increase the average wages of drivers and, at the same time, to give the trader the benefit of competitive rates and more personal and efficient service than he has had in the east.
Haulier's Licence May be Revoked
WHEN Mr. G. Wadsworth, managing TV director of E. G. Llewellyn (Coal Merchants), Ltd., Cardiff, and Wadsworth Transport (Cardiff), Ltd., appeared before the South Wales Licensing Authority last week to give an account of his conduct under Section 13 of the 1933 Act, he was told by the Authority:— " 1 am not at all satisfied with your conduct as a haulier. I have to consider whether I shall remove all your three vehicles from licence."
Mr. Wadsworth was asked about prosecutions arising from the use of his vehicles and unpaid fines, and gave an assurance that outstanding fines would bepaid.
The Licensing Authority reserved his decision.
TALKS ON " WHEEL PLAN" FOR LONDON THE Greater London Area Counci; I of the National Chamber of Trade have been invited by the Committee of Inquiry into London Transport to discuss the "Wheel Plan" for London buses. The council will be represented by the author of the plan, Mr. S. J. Bull, and the secretary, Mr. J. B. Pegnall, The meeting will take place today.
The "Wheel Plan," submitted to the committee towards the end of 1953, provides for hub area services linking suburban services. It is claimed that the plan would reduce the total number of buses in the centre of London without loss of service, and provide a better balance of suburban facilities.
HEREFORD VEHICLE CHECK:
19 OWNERS IN COURT nNE day last April, police at Here
ford examined 65 goods vehicles and, as a result, 19 owners appeared at Hereford magistrates' court on Monday.
Prosecuting, Mr. M. T. A. Matthem stated that half of the vehicles were found to be unserviceable. Insonic cases, the vehicles were " dropping to bits." Doors and wheels were likely to come off at any moment or the steering to fail.
Fines of f4-£15 were imposed.
BRAKE TESTER FOR 10s. 6d.
ASIMPLE brake-efficiency indicator costing 10s. 6d. has been produced by Teebee Manufacturing Co., Ltd., 205 Hook Road. Surbiton, Surrey. It is only a few inches long and is designed for sliding on to a small bracket which can he permanently secured to, say, the door of the vehicle.
When a speed in excess of 15 m.p.h. has been attained and an emergency application of the brakes is made, three steel halls are caused to travel up three grooves each of a different gradient. On the body of the indicator are efficiency-scale figures which are read off against the positions attained by the balls after braking.