3s. Increase Agreed After Fierce Fight
23rd July 1954
Page 34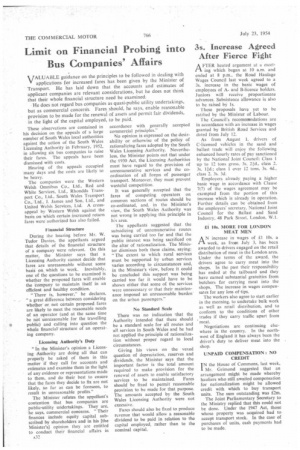 Page 34, 23rd July 1954 —
3s. Increase Agreed After Fierce Fight
Close
A FTER heated argument at a meet1-1 ing which began at 10 a.m, and ended at 8 p.m., the Road Haulage Wages Council last week agreed to a 3s. increase in the basic wages of employees of Aand B-licence holders. Juniors will receive proportionate advances. Subsistence allowance is also to be raised by Is.
'these proposals have yet to be ratified by the Minister of Labour.
The Council's recommendations are in accordance with an increase in wages granted by British Road Services and dated from July 12.
As from August 1, drivers of C-licensed vehicles in the sand and ballast trade will enjoy the following enhanced hourly rates of pay sanctioned by the National Joint Council: Class 1 up to 12 tons gross. 3s. 214:1., class 2, 3s. 1:1(1.; class 1 over 12 tons, 3s. 4d., class 2, 3s. 3d.
Employers already paying a higher basic wage in accordance with Clause 7(7) of the wages agreement may be exempted from the portion of this increase which is already in operation. Further details can be obtained from the employers' secretary, National Joint Council for the Ballast and Sand Industry, 48 Park Street, London. W.1.
El 10s. MORE FOR LONDON MEAT MEN
AN increase in wages of £1 10s. a week, as from July 3, has been awarded to drivers engaged on the retail distribution of meat in the London area. Under the terms of the award, the drivers agree to carry meat into the shops. In the past their responsibility has ended at the tailboard and they have earned substantial gratuities from butchers for carrying meat into the shops. The increase in wages compensates for any loss of-tips.
The workers also agree to start earlier in the morning, to undertake bulk work as well as retail distribution, and to conform to the conditions of other trades if they carry traffic apart from meat.
Negotiations are continuing elsewhere in the country. In the northwest of England it has always been the driver's duty to deliver meat into the shop.
UNPAID COMPENSATION: NO CREDIT IN the House of Commons, last week, I. Mr. Grimond suggested that an arrangement might be made whereby hauliers who still awaited compensation for nationalization might be allowed credit with which to buy transport units. The sum outstanding was £2m.
The Joint Parliamentary Secretary to the Ministry replied that this could not be done. Under the 1947 Act, those whose property was acquired had to accept transport stock. In the case of purchases of units, cash payments had to be made.