ONE HEARS
23rd January 1919
Page 3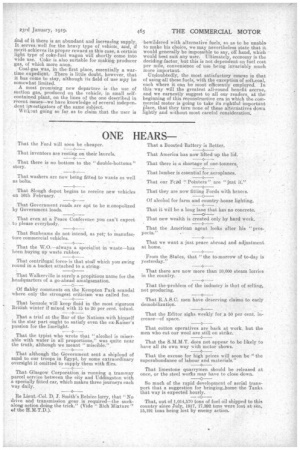 Page 3, 23rd January 1919 —
ONE HEARS
Close
That the Ford will soon be cheaper. That inventors are resting on their laurels.
That there is no bottom to the " double-bottoms " story.
That washers are now being fitted to wants as well as bolts.
That Slough depot begins to receive new vehicles on 16th February.
That Government roads are apt to be monopolized by Government loads.
That even at a Peace Conference you can't expect to please everybody.
That Sunbeams do not intend, as yet; to manufac; tare commercial vehicles.
That the W.0.—always a specialist in waste—has been buying up waste rubber.
That centrifugal force is that stuff which you swing round in a bucket attached to a string.
That Walkerville is surely a propitious name for the headquarters of a go-ahead amalgamation.
-Of flabby comments on the Kempton Park scandal where only the strongest criticism was called for.
That benzole will keep: fluid in the most rigorous British winter if mixed with 15 to 20 per cent. toluol.
That a trial at the Bar of the Nations with himself in the star part ought to satisfy even the ex-Raiser's passion for the limelight.
That the typist who wrote that " alcohol is miserable with water in all proportions," was quite near the truth, although we meant "miscible.".
That although the Government sent a shipload of sand to our troops in Egypt, by some extraordinary oversight it omitted to supply them with flies.
That Glasgow Corporation is running a tramway parcel service between the city and Uddingston with a specially fitted car, which makes three journeys each way daily.
Re Lieut.-Col. D. J. Smith's Eelsize lorry, that "No drive and transmission gear is required—the suckalong action doing the trick." (Vide "Rich Mixture" of the H.M.T.D.). That a Boosted Battery is Better. That America has now lifted up the lid. That there is a shortage of one-tonners. That lumber is essential for aeroplanes.
That our Fcx.1 " Pointers ". are "just it." That they are now fitting Fords with braces. Of alcohol for farm and country-house lighting. That it will be a long lane that has no concrete. That new wealth is created only by hard work.
That the American agent looks after his "pros-. pec ts."
That we want a just .peace abroad and adjustment at home.
From the States, that "the to-morrow of to-day is yesterday."
That there are now more than 10,000 steam lorries in the country.
That the problem of the industry is that of s-elling, not producing.
That R.A.S.C. men have deserving claims to early demobilization.
That the Editor sighs weekly for a 50 per cent. increase—of space.
That cotton operatives are back at work, but the men who cut our wool are still on strike.
That the S.M.M.T. does not appear to be likely to have all its own way with motor shows.
That the excuse for high prices will soon be "the superabundance of labour and materials."
That limestone quarrymen should be released at once, or the steel works may have to close down.
So much of the rapid development of aerial transport that a suggestion for bringing.home the Tanks that way is expected hourly.
That, out of 1,014,570 tons of fuel oil shipped to this country since July, 1917, 17,392 tons were lost at sea, 15,191 tons being lost by enemy action.