Fordchoice
23rd February 1968
Page 35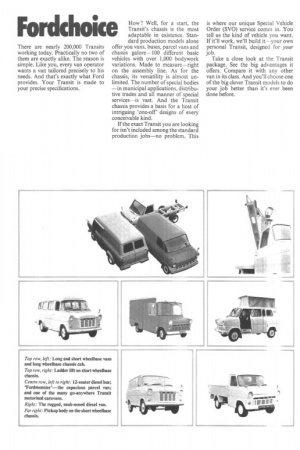 Page 35, 23rd February 1968 —
Fordchoice
Close
There are nearly 200,000 Transits working today. Practically no two of them are exactly alike. The reason is simple. Like you, every van operator wants a van tailored precisely to his needs. And that's exactly what Ford provides. Your Transit is made to your precise specifications. How? Well, for a start, the Transit's chassis is the most adaptable in existence. Standard production models alone offer you vans, buses, parcel vans and chassis galore-100 different basic vehicles with over 1,000 bodywork variations. Made to measure right on the assembly line. As for the chassis, its versatility is almost unlimited. The number of special bodies in municipal applications, distributive trades and all manner of special services—is vast. And the Transit chassis provides a basis for a host of intriguing 'one-off' designs of every conceivable kind.
If the exact Transit you are looking for isn't included among the standard production jobs—no problem. This is where our unique Special Vehicle Order (SVO) service comes in. You tell us the kind of vehicle you want. If it'll work, we'll build it—your own personal Transit, designed for your job.
Take a close look at the Transit package. See the big advantages it offers. Compare it with any other van in its class. And you'll choose one of the big clever Transit models to do your job better than it's ever been done before.