Dangerous loads regs on the way
23rd February 1968
Page 26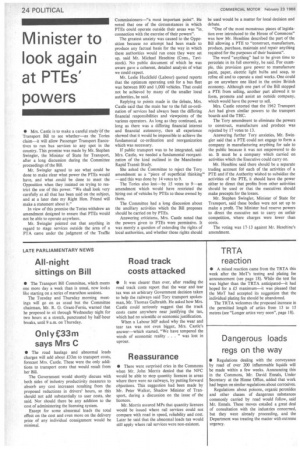 Page 26, 23rd February 1968 —
Dangerous loads regs on the way
Close
Keywords :
Chemistry
,
Safety
,
Organic Compounds
,
Prevention
,
Corrosive Substance
,
Dangerous Goods
,
Organic Peroxide
,
David Ennals, Baron Ennals
,
Flammability
,
Poison
,
Peroxide
,
Politics
• Regulations dealing with the conveyance by road of over 200 inflammable liquids will be made within a few weeks. Announcing this in the Commons, Mr. David Ennals, Under Secretary at the Home Office, added that work had begun on similar regulations about corrosives.
Regulations about poisons, organic peroxides and other classes of dangerous substances commonly carried by road would follow, said Mr. Ennals. These moves entailed a great deal of consultation with the industries concerned, but they were already proceeding, and the Department was treating the matter with extreme urgency.