AIR TRANSPORT NEWS
23rd August 1935
Page 51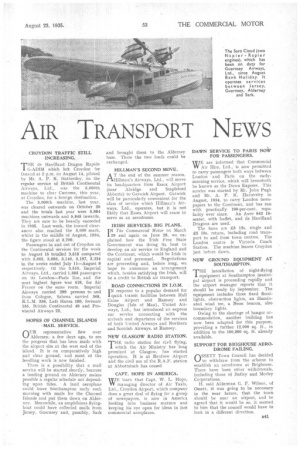 Page 51, 23rd August 1935 —
AIR TRANSPORT NEWS
Close
Keywords :
CROYDON TRAFFIC STILL INCREASING.
THE de Havilland Dragon Rapide G-ADIM which left Croydon for Ostend at 2 p.m. on August 14, piloted by Mr. A. P. K. Hattersley, on the regular service of British Continental Airways, Ltd., was the 5,000th machine to clear Customs, this year, at Croydon, for a foreign destination.
The 5,000th machine, last year, was cleared outwards on Oetober 20 and the totals last year were 5,884 machines outwards and 5,845 inwards. They are sure to be heavily exceeded in 1935. Last week, the inward clearances also reached the 5,000 mark, whilst in the middle of August, 1934, the figure stood at 3,700.
Passengers in and out of Croydon on the Continental services for the week to August 15 totalled 3,615 compared with 3,665, 3,656, 3,146, 3,197, 3,334 in the weeks ended July 11—August 8 respectively. Of the 3,515, Imperial Airways, Ltd., carried 1,685 passengers on its London—Paris line, and the next highest figure wag 418, for Air France on the same route. Imperial Airways carried 299 persons to and from Cologne, Sabena carried 368, K.L.M. 339, Luft Hansa 180, Swissair 155, British Continental 49 and Provincial Airways 22.
HOPES OF CHANNEL ISLANDS 'MAIL SERVICE.
OTJR representative flew over Alderney, a few days ago, to see the progress that has been made with the airport site at the west end of the island. It is on comparatively high and clear ground, and most of the levelling work is now finished.
There is a possibility that a mail service will be started shortly, because a landing ground on Alderney makes possible a regular schedule not depending upon tides. A land aeroplane could leave Southampton early each morning with mails for the Channel Islands and put them down on Alderney. Meanwhile, an amphibious flyingboat could have collected mails from Jersey, Guernsey and, possibly, Sark and brought them to the Alderney base. There the two loads could be exchanged.
HILLMAN'S SECOND MOVE.
AT the end of the summer season, Hillman's Airways, Ltd., will move its headquarters from Essex Airport (near Abridge and Stapleford Abbotts) to Gatwick Airport. Gatwick will be particularly convenient for the class of service which Hillman's Airways, Ltd., operates, but it is not likely that Essex Airport will cease to serve as an aerodrome.
IRISH SERVICES: BIG PLANS.
IN The Commercial Motor on March 29 and again on June 28, we explained how the Irish Free State Government was doing its best to develop an air service to England and the Continent, which would be Irish in capital and personnel. Negotiations are proceeding and, before long, we hope to announce an arrangement which, besides satisfying the Irish, will be a credit to British air transport.
ROAD CONNECTIONS IN I.O.M.
I N response to a popular demand for • quick transit facilities between Hall Caine Airport and Ramsey and Douglas (Isle of Man), United Airways, Ltd" has introduced an express oar service connecting with the arrivals and departures of the services of both United Airways and Northern and Scottish Airways, at Ramsey.
NEW GLASGOW RADIO STATION.
THE radio station for civil flying, which the Air Ministry has long promised at Glasgow, has started operation. It is at Renfrew Airport and the civil use of the R.A.F. station at Abbottsinch has ceased
CAPT. HOPE IN AMERICA.
WE learn that Capt. W. L. Hope, managing director of Air Taxis, Ltd., Croydon Airport, which company does a great deal of flying for a group ,c1f newspapers, is now in America looking into business matters and keeping his eye open for ideas in fast commercial aeroplanes.
DAWN SERVICE TO PARIS NOW FOR PASSENGERS.
WE are informed that Commercial Air Hire, Ltd., is now permitted to carry passengers both ways between London and Paris on the earlymorning service, which will henceforth be known as the Dawn Express. This service was started by Mr. John Pugh and Mr. A. P. K. FIattersley in August, 1934, to carry London newspapers to the Continent, and has run with practically 100-per-cent, regu larity ever since. An Avro 642 16seater, with buffet, and de Havilland Dragons are used.
The fares are £3 15s. single and £5 10s. return, including road transport to and from town centres. The London centre is Victoria Coach Station. The machine leaves Croydon just before dawn.
NEW GROUND EQUIPMENT AT SOUTHAMPTON.
THE installation of night-flying equipment at Southampton Municipal airport is proceeding rapidly and the airport manager reports that it should be ready by September. The equipment includes three fixed floodlights, obstruction lights, an illuminated wind tee, a Neon beacon, also boundary lights.
Owing to the shortage of hangar accommodation, another building has now been adapted for this purpose, providing a further 12,000 sq. ft., in addition to the 100,000 sq. ft. already available.
SUPPORT FOR BRIGHOUSE AERODROME FAILING.
QSSETT Town Council has decided to withdraw from the scheme to establish an aerodrome at Brighouse. There have been other withdrawals, including those of Batley and Morley Corporations.
If, said Alderman G. F. Wilson, of Ossett, it was going to be necessary in the near future, that the town should be near an airport, and he agreed that it would be so, it seemed to him that the council would have to look in a different direction.