ONE HEARS
22nd September 1925
Page 3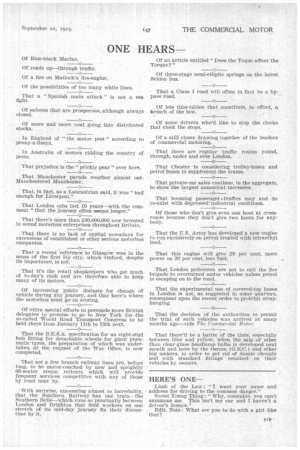 Page 3, 22nd September 1925 —
ONE HEARS
Close
Of Blue-black Marias.
Of roads up—through traffic.
Of a fire on Matlock's fire-engine.
Of the possibilities of too many white lines.
That a "Spanish main attack" is not a sea fight.
Of saloons that are prosperous, although always closed.
Of more and more coal going into distributed stocks.
In England of "the motor pest" penny-a-liners. according to In Australia of motors ridding the country of pests.
That prejudice is the "prickly pear" over here. • 0 That Manchester parade weather almost outManchestered Manchester.
That, in fact, as a Lancastrian said, it was " bad enough for Liverpool."
That London cabs last 10 years—with the comment "that the journey often seems longer."
That there's more than £30,000,000 now invested in sound motorbus enterprises throughout Britain.
• 0 That there is no lack of capital nowadays for extensions of established or other serious motorbus companies.
That a recent reference to Glasgow was in the sense of the first big city, which Oxford, despite its importance, is not.
That it's the retail shopkeepers who get much of to-day's cash and are therefore able to keep many of its motors.
Of increasing public distaste for change of vehicle during any journey, and that here's where the motorbus must go on scoring.
Of extra special efforts to persuade more British delegates to promise to go to New York for the so-called 'World Road Transport Congress to be held there from January 11th to 13th next.
That the B.E.S.A. specification for an eight-stud hub fitting for detachable wheels for giant pneumatic tyres, the preparation of which was undertaken at the request of the War Office, is now completed.
That not a few branch railway lines are, before long, to be motor-coached by new and sprightly CO-seater steam railcars which will provide frequent services competitive with any of those by road near by.
With surprise, amounting almost to incredulity, that the Southern Railway has one train—the Southern Belle—which runs so punctually between London and Brighton that field workers on one stretch of •its mid-day journey fix their dinnertime by it. Of an article entitled " Does the Toque affect the Torque?"
Of three-stage semi-elliptic springs on the latest Selden bus.
That a Class I road will often in fact be a bypassroad.
Of bus time-tables that constitute, in effect, a breach of the law.
Of some drivers who'd like to stop the clocks that clock the stops.
Of a still closer drawing together of the leaders of commercial motoring.
That there are regular traffic routes round, through, under and over London.
That Chester is considering trolley-buses and petrol buses to supplement the trams.
That private-car sales continue, in the aggregate, to show the largest numerical increases.
That booming passenger traffics may and do co-exist with depressed'industrial conditions.
Of those who don't give even one hoot at crossroads because they don't give two hoots for anybody.
That the T.J.S. Army has developed a new engine to run exclusively on petrol treated with tetraethyl lead.
That this engine will give 28 per cent. more power on 20 per cent. less fuel.
That London policemen are not to call the fire brigade to overturned motor vehicles unless petrol is escaping on to the road.
That the experimental use of covered-top buses In London is not, as suggested in some quarters, consequent upon the recent order to prohibit straphanging.
That the decision of the authorities to permit the trial of such vehicles was arrived at many months ago—vide The Commercial Motor.
That there'll be a battle of the tints, especially between blue and yellow, when the sale of other than clear-glass headlamp bulbs is developed next month and later by the Osraxn (G.E.C.) and other big makers, in order to get rid of dazzle cheaply and with standard fittings retained on their vehicles by owners.