THE FAN AS A SEPARATE COMPONENT.
22nd September 1925
Page 21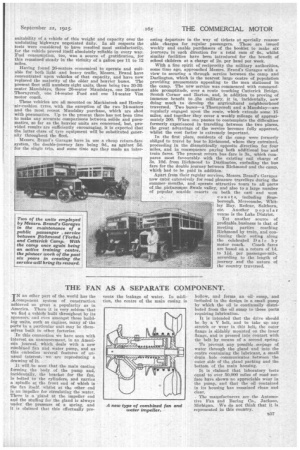 Page 21, 22nd September 1925 —
THE FAN AS A SEPARATE COMPONENT.
Close
IN no other part of the world has the component system of construction achieved so great a popularity as in America. There it is very seldom that we find a vehicle built throughout by its sponsors, and even amongst those building units, such as engines, many of, the parts in a particular unit may be themselves built in other factories.
In this connection we have seen with interest an announcement, in an American journal, which deals with a new combined fan and water pump, and as this embodies several features of unusual interest; we are reproducing a drawing of it.
It will be seen that the main casting forming the body of the pump and, incidentally, the bracket for the fan, is bolted to the cylinders, and carries a spindle at the front end of which is the fan itself. Whilst at the other end is an impeller for circulating the water. There is a gland at the impeller end and the stuffing for the gland is always under the pressure of a spring, and it is claimed that this effectually pre vents the leakage of water. In addition, the centre of the main easing is hollow, and forms an oil sump, and included in the design is a small pump by which the oil is continually distributed from the oil sump to those parts requiring lubrication.
It is intended that the drive should be by a V belt, and to take up any stretch or wear in this belt, the outer flange is alidal.11y mounted on the inner flange, and is pressed into contact with the belt by means of a second spring.
To prevent any possible seepage of water through the gland and into the centre containing the lubricant, a small drain hole communicates between the outer side of the gland packing and the bottom of the main housing.
It is claimed that laboratory tests equal to over 50,000 miles of road surface have shown no appreciable wear in the pump, and that the oil contained in its housing has remained clean and clear.
• The manufacturers are the Automotive Fan and Baring Co., Jackson, Michigan. We do not think that it is represented in this country.