It's an ill wind...
22nd March 2012
Page 46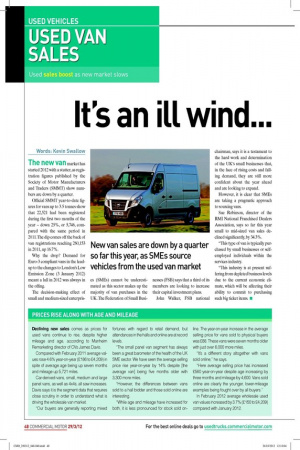 Page 46, 22nd March 2012 —
It's an ill wind...
Close
Words: Kevin Swallow The new van market has
started 2012 with a stutter, as registration igures published by the Society of Motor Manufacturers and Traders (SMMT) show numbers are down by a quarter.
Oficial SMMT year-to-date igures for vans up to 3.5 tonnes show that 22,521 had been registered during the irst two months of the year – down 25%, or 5,746, compared with the same period in 2011. The dip comes off the back of van registrations reaching 260,153 in 2011, up 16.7%.
Why the drop? Demand for Euro-3 compliant vans in the leadup to the changes to London's Low Emission Zone (3 January 2012) meant a lull in 2012 was always in the ofing.
The decision-making effect of small and medium-sized enterpris es (SMEs) cannot be underestimated as this sector makes up the majority of van purchases in the UK. The Federation of Small Busi nesses (FSB) says that a third of its members are looking to increase their capital investment plans. John Walker, FSB national chairman, says it is a testament to the hard work and determination of the UK's small businesses that, in the face of rising costs and falling demand, they are still more conident about the year ahead and are looking to expand.
However, it is clear that SMEs are taking a pragmatic approach to sourcing vans.
Sue Robinson, director of the RMI National Franchised Dealers Association, says so far this year small to mid-sized van sales declined signiicantly, by 34.3%.
"This type of van is typically purchased by small businesses or selfemployed individuals within the services industry.
"This industry is at present suffering from depleted business levels due to the current economic climate, which will be affecting their ability to commit to purchasing such big ticket items. ■