Sensible used buy
22nd March 2012
Page 34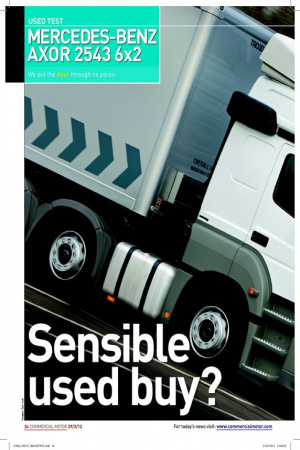 Page 35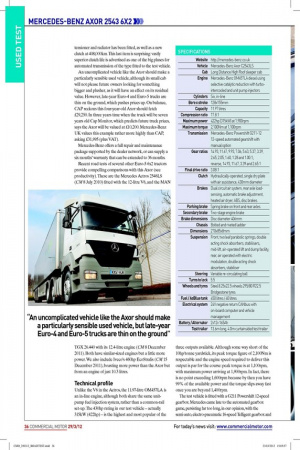 Page 38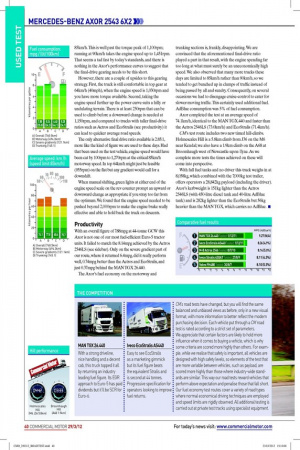 Page 34, 22nd March 2012 —
Sensible used buy
Close
tensioner and radiator has been itted, as well as a new clutch at 408,000km. This last item is surprising: vastly superior clutch life is advertised as one of the big pluses for automated transmission of the type itted to the test vehicle.
An uncomplicated vehicle like the Axor should make a particularly sensible used vehicle, although its small cab will not please future owners looking for something bigger and plusher, as it will have an effect on its residual value. However, late-year Euro-4 and Euro-5 trucks are thin on the ground, which pushes prices up. On balance, CAP reckons this four-year-old Axor should fetch £29,250. In three years time when the truck will be seven years old Cap Monitor, which predicts future truck prices, says the Axor will be valued at £10,200. Mercedes-Benz UK values this example rather more highly than CAP, asking £31,995 (plus VAT).
Mercedes-Benz offers a full repair and maintenance package supported by the dealer network, or can supply a six months' warranty that can be extended to 36 months.
Recent road tests of several other Euro-5 6x2 tractors provide compelling comparisons with this Axor (see productivity). These are the Mercedes Actros 2546LS (CM 8 July 2010) itted with the 12-litre V6, and the MAN TGX 26.440 with its 12.4-litre engine (CM 8 December 2011). Both have similar-sized engines but a little more power. We also include Iveco's 460hp EcoStralis (CM 15 December 2011), boasting more power than the Axor but from an engine of just 10.3 litres.
Technical profile
Unlike the V6 in the Actros, the 11.97-litre OM457LA is an in-line engine, although both share the same unitpump fuel injection system, rather than a common-rail set-up. The 430hp rating in our test vehicle – actually 315kW (422hp) – is the highest and most popular of the three outputs available. Although some way short of the 10hp/tonne yardstick, its peak torque igure of 2,100Nm is respectable and the engine speed required to deliver this output is par for the course: peak torque is at 1,100rpm, with maximum power arriving at 1,900rpm. In fact, there is no point exceeding 1,600rpm because by then you have 99% of the available power and the torque slips away fast once you are beyond 1,400rpm.
The test vehicle is itted with a G211 Powershift 12-speed gearbox. Mercedes came late to the automated gearbox game, persisting far too long, in our opinion, with the semi-auto, electro-pneumatic 16-speed Telligent gearbox and 85km/h. This is well past the torque peak of 1,100rpm; running at 90km/h takes the engine speed up to 1,451rpm. That seems a tad fast by today's standards, and there is nothing in the Axor's performance curves to suggest that the inal-drive gearing needs to be this short.
However, there are a couple of upsides to this gearing strategy. First, the truck is still comfortable in top gear at 64km/h (40mph), when the engine speed is 1,030rpm and you have more torque available. Second, taking the engine speed further up the power curve suits a hilly or undulating terrain. There is at least 250rpm that can be used to climb before a downward change is needed at 1,150rpm, and compared to trucks with taller inal-drive ratios such as Actros and EcoStralis (see productivity) it can lead to quicker average road speeds.
The only alternative inal drive ratio available is 2.85:1, more like the kind of igure we are used to these days. Had that been used on the test vehicle, engine speed would have been cut by 100rpm to 1,270rpm at the critical 85km/h motorway speed. In top 64km/h might just be feasible (955rpm) on the lat but any gradient would call for a downshift.
When manual shifting, green lights at either end of the engine speed scale on the rev counter prompt an upward or downward change as appropriate if you stray too far from the optimum. We found that the engine speed needed to be pushed beyond 2,000rpm to make the engine brake really effective and able to hold back the truck on descents.
Productivity
With an overall igure of 7.88mpg at 44-tonne GCW this Axor is not one of our most fuel-eficient Euro-5 tractor units. It failed to match the 8.14mpg achieved by the Actros 2546LS (see sidebar). Only on the severe gradient part of our route, where it returned 6.4mpg, did it really perform well, 0.74mpg better than the Actros and EcoStralis, and just 0.37mpg behind the MAN TGX 26.440.
The Axor's fuel economy on the motorway and trunking sections is, frankly, disappointing. We are convinced that the aforementioned inal-drive ratio played a part in that result, with the engine spending far too long at what must surely be an uneconomically high speed. We also observed that many more trucks these days are limited to 85km/h rather than 90km/h, so we tended to get bunched up in clumps of trafic instead of being passed by all and sundry. Consequently, on several occasions we had to disengage cruise-control to cater for slower-moving trafic. This certainly used additional fuel. AdBlue consumption was 5% of fuel consumption.
Axor completed the test at an average speed of 74.1km/h, identical to the MAN TGX.440 and faster than the Actros 2546LS (73.0km/h) and EcoStralis (71.4km/h).
CM's test route includes two new timed hill-climbs. Holmescales Hill is a 5.8km climb from J36 on the M6 near Kendal; we also have a 1.9km climb on the A68 at Broomhaugh west of Newcastle-upon-Tyne. As we complete more tests the times achieved on these will come into perspective.
With full fuel tanks and no driver this truck weighs in at 8,058kg, which combined with the 7,000kg test trailer, offers operators a 28,842kg payload (including the driver). Axor's kerbweight is 151kg lighter than the Actros 2546LS (with 450-litre diesel tank and 40-litre AdBlue tank) and is 282kg lighter than the EcoStralis but 56kg heavier than the MAN TGX, which carries no AdBlue. ■