Licence lost for failure to prove finances
22nd March 2012
Page 3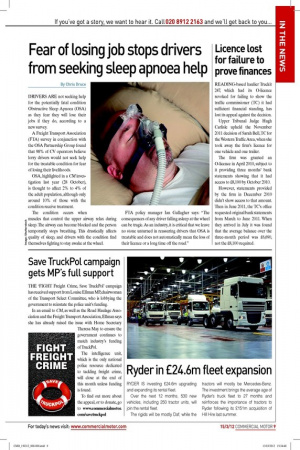 Page 3, 22nd March 2012 —
Licence lost for failure to prove finances
Close
READING-based haulier Truckit 247, which had its O-licence revoked for failing to show the trafic commissioner (TC) it had suficient inancial standing, has lost its appeal against the decision.
Upper Tribunal Judge Hugh Carlisle upheld the November 2011 decision of Sarah Bell, TC for the Western Trafic Area, when she took away the irm's licence for one vehicle and one trailer.
The irm was granted an O-licence in April 2010, subject to it providing three months' bank statements showing that it had access to £8,100 by October 2010.
However, statements provided by the irm in December 2010 didn't show access to that amount. Then in June 2011, the TC's ofice requested original bank statements from March to June 2011. When they arrived in July it was found that the average balance over the three-month period was £6,690, not the £8,100 required.