Fear of losing job stops drivers from seeking sleep apnoea help
22nd March 2012
Page 3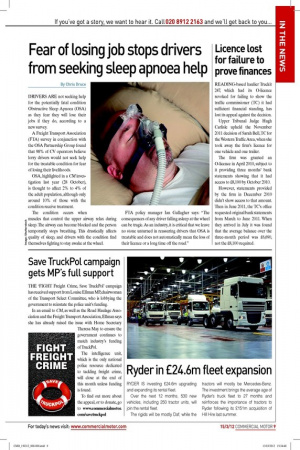 Page 3, 22nd March 2012 —
Fear of losing job stops drivers from seeking sleep apnoea help
Close
By Chris Druce DRIVERS ARE not seeking help for the potentially fatal condition Obstructive Sleep Apnoea (OSA) as they fear they will lose their jobs if they do, according to a new survey.
A Freight Transport Association (FTA) survey in conjunction with the OSA Partnership Group found that 98% of CV operators believe lorry drivers would not seek help for the treatable condition for fear of losing their livelihoods.
OSA, highlighted in a CM investigation last year (28 October), is thought to affect 2% to 4% of the adult population, although only around 10% of those with the condition receive treatment.
The condition occurs when muscles that control the upper airway relax during sleep. The airway can become blocked and the person temporarily stops breathing. This drastically affects quality of sleep, and drivers with the condition ind themselves ighting to stay awake at the wheel. FTA policy manager Ian Gallagher says: "The consequences of any driver falling asleep at the wheel can be tragic. As an industry, it is critical that we leave no stone unturned in reassuring drivers that OSA is treatable and does not automatically mean the loss of their licence or a long time off the road."