The cost of a life
22nd March 2012
Page 27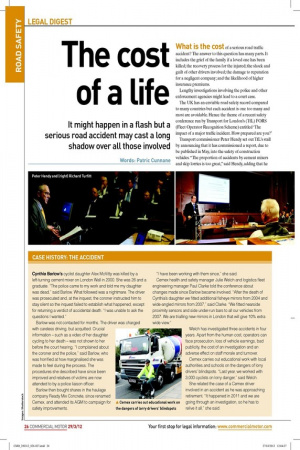 Page 28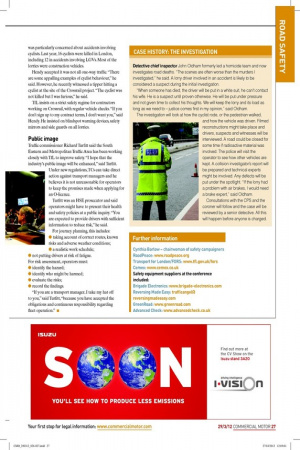 Page 27, 22nd March 2012 —
The cost of a life
Close
Keywords :
Transport
,
Land Transport
,
Road Transport
,
Car Safety
,
Accidents
,
Peter Hendy
,
Place Of Birth Missing
,
Road Traffic Safety
,
Safety
,
Trafic
,
Traffic Collision
,
Hendy
,
Disaster / Accident
It might happen in a flash but a serious road accident may cast a long shadow over all those involved
Words: Patric Cunnane What is the cost of a serious road trafic accident? The answer to this question has many parts. It includes the grief of the family if a loved one has been killed; the recovery process for the injured; the shock and guilt of other drivers involved; the damage to reputation for a negligent company; and the likelihood of higher insurance premiums.
Lengthy investigations involving the police and other enforcement agencies might lead to a court case.
The UK has an enviable road safety record compared to many countries but each accident is one too many and most are avoidable. Hence the theme of a recent safety conference run by Transport for London's (TfL) FORS (Fleet Operator Recognition Scheme) entitled 'The impact of a major trafic incident. How prepared are you?' Transport commissioner Peter Hendy set out TfL's stall by announcing that it has commissioned a report, due to be published in May, into the safety of construction vehicles. "The proportion of accidents by cement mixers and skip lorries is too great," said Hendy, adding that he was particularly concerned about accidents involving cyclists. Last year, 16 cyclists were killed in London, including 12 in accidents involving LGVs. Most of the lorries were construction vehicles.
Hendy accepted it was not all one-way trafic. "There are some appalling examples of cyclist behaviour," he said. However, he recently witnessed a tipper hitting a cyclist at the site of the Crossrail project. "The cyclist was not killed but I was furious," he said.
TfL insists on a strict safety regime for contractors working on Crossrail, with regular vehicle checks. "If you don't sign up to my contract terms, I don't want you," said Hendy. He insisted on blindspot warning devices, safety mirrors and side guards on all lorries.
Public image
Trafic commissioner Richard Turitt said the South Eastern and Metropolitan Trafic Area has been working closely with TfL to improve safety. "I hope that the industry's public image will be enhanced," said Turitt. Under new regulations, TCs can take direct action against transport managers and he believes it is not unreasonable for operators to keep the promises made when applying for an O-licence.
Turitt was an HSE prosecutor and said operators might have to present their health and safety policies at a public inquiry. "You are expected to provide drivers with suficient information to reduce risk," he said.
For journey planning, this includes: • taking account of correct routes, known risks and adverse weather conditions; • a realistic work schedule; • not putting drivers at risk of fatigue. For risk assessment, operators must: • identify the hazard; • identify who might be harmed; • evaluate the risks; • record the indings.
"If you are a transport manager, I take my hat off to you," said Turitt, "because you have accepted the obligations and continuous responsibility regarding leet operation." n