CASE HISTORY: THE ACCIDENT
22nd March 2012
Page 27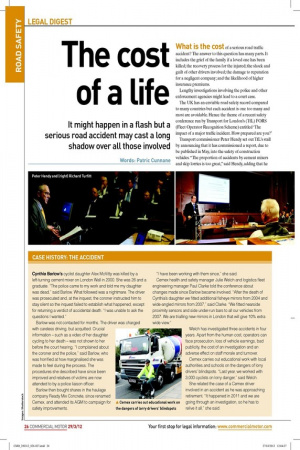 Page 27, 22nd March 2012 —
CASE HISTORY: THE ACCIDENT
Close
Cynthia Barlow's cyclist daughter Alex McVitty was killed by a left-turning cement mixer on London Wall in 2000. She was 26 and a graduate. "The police came to my work and told me my daughter was dead," said Barlow. What followed was a nightmare. The driver was prosecuted and, at the inquest, the coroner instructed him to stay silent so the inquest failed to establish what happened, except for returning a verdict of accidental death. "I was unable to ask the questions I wanted." Barlow was not contacted for months. The driver was charged with careless driving, but acquitted. Crucial information – such as a video of her daughter cycling to her death – was not shown to her before the court hearing. "I complained about the coroner and the police," said Barlow, who was horrified at how marginalised she was made to feel during the process. The procedures she described have since been improved and relatives of victims are now attended to by a police liaison officer.
Barlow then bought shares in the haulage company Ready Mix Concrete, since renamed Cemex, and attended its AGM to campaign for safety improvements. "I have been working with them since," she said.
Cemex health and safety manager Julie Welch and logistics fleet engineering manager Paul Clarke told the conference about changes made since Barlow became involved. "After the death of Cynthia's daughter we fitted additional fisheye mirrors from 2004 and wide-angled mirrors from 2007," said Clarke. "We fitted nearside proximity sensors and side under-run bars to all our vehicles from 2007. We are trialling new mirrors in London that will give 10% extra wide view." Welch has investigated three accidents in four years. Apart from the human cost, operators can face prosecution, loss of vehicle earnings, bad publicity, the cost of an investigation and an adverse effect on staff morale and turnover.
Cemex carries out educational work with local authorities and schools on the dangers of lorry drivers' blindspots. "Last year, we worked with 3,000 cyclists on lorry danger," said Welch.
She related the case of a Cemex driver involved in an accident as he was approaching retirement. "It happened in 2011 and we are going through an investigation, so he has to relive it all," she said.