We know transport law wards
22nd March 2012
Page 25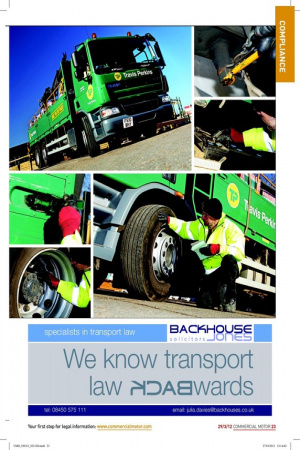 Page 26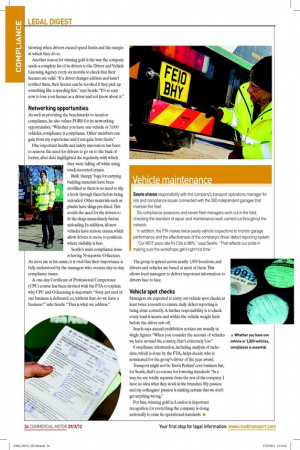 Page 25, 22nd March 2012 —
We know transport law wards
Close
showing when drivers exceed speed limits and the margin at which they do so.
Another reason for winning gold is the way the company sends a complete list of its drivers to the Driver and Vehicle Licensing Agency every six months to check that their licences are valid. "If a driver changes address and hasn't notiied them, their licence can be revoked if they pick up something like a speeding ine," says Searle. "It's so easy now to lose your licence as a driver and not know about it."
Networking opportunities
As well as providing the benchmarks to monitor compliance, he also values FORS for its networking opportunities. "Whether you have one vehicle or 3,000 vehicles, compliance is compliance. Other members can gain from my experience and I can gain from theirs." One important health and safety innovation has been to remove the need for drivers to go on to the back of lorries, after data highlighted the regularity with which they were falling off while using truck-mounted cranes.
Bulk 'dumpy' bags for carrying building materials have been modiied so there is no need to slip a hook through them before being unloaded. Other materials such as planks have slings pre-itted. This avoids the need for the drivers to it the slings immediately before unloading. In addition, all new vehicles have remote cranes, which allow drivers to move to positions where visibility is best.
Searle's main compliance issue is having 56 separate O-licences. As most are in his name, it is vital that their importance is fully understood by the managers who oversee day-to-day compliance issues.
A one-day Certiicate of Professional Competence (CPC) course has been devised with the FTA to explain why CPC and O-licensing is important. "Sixty per cent of our business is delivered, so, without that, do we have a business?" asks Searle. "That is what we address." The group is spread across nearly 1,900 locations, and drivers and vehicles are based at most of them. This allows local managers to deliver important information to drivers face to face.
Vehicle spot checks
Managers are expected to carry out vehicle spot checks at least twice a month to ensure daily defect reporting is being done correctly. A further responsibility is to check every load is secure and within the vehicle weight limit before the driver sets off.
Searle says annual prohibition notices are usually in single igures. "When you consider the amount of vehicles we have around the country, that's extremely low." Compliance information, including analysis of tacho data, which is done by the FTA, helps decide who is nominated for the group's driver of the year award.
Transport might not be Travis Perkins' core business but, for Searle, that's no excuse for lowering standards. "In a way, we are totally separate from the rest of the company. I have no idea what they stock in the branches. My passion and my colleagues' passion is making certain that we don't get anything wrong."
For him, winning gold in London is important recognition for everything the company is doing nationally to raise its operational standards. n