Mobile Sub-station on Trailers
22nd March 1957
Page 50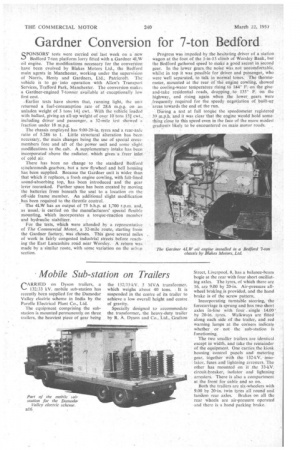 Page 50, 22nd March 1957 —
Mobile Sub-station on Trailers
Close
CARRIED on Dyson trailers, a 132/33 kV. mobile sub-station has recently been supplied for the Damodar Valley electric scheme in India by the Parolle Electrical Plant Co., Ltd. The equipment comprising the substation is mounted permanently on three trailers, the heaviest piece of gear being the 132/33-kV. 5 MVA transformer, which weighs about 40 tons. It is suspended in the centre of its trailer to achieve a low overall height and centre of gravity.
Specially designed to accommodate the transformer, the heavy-duty trailer by R. A. Dyson and Co., Ltd., Grafton Street, Liverpool, 8, has a balance-beam bogie at the rear with four short oscillating axles. The tyres, of which there arc 16, are 9.00 by 20-in. Air-pressure allwheel braking is provided, and the hand brake is of the screw pattern.
Incorporating turntable steering, the forecarriage is sprung and has two short axles in-line with four single 14.00 • by 20-in. tyres. Walkways are fitted along each side of the trailer, and red warning lamps at the corners indicate whether •or not the sub-station is functioning.
The two smaller trailers are identical except in width, and lake the remainder of the equipment. One carries the kiosk housing 'control panels and metering gear, together with the 132-kV, • inSti. lator, fuses and lightning arresters. The other has mounted on it the 33-kV. circuit-breaker, isolator and lightning arresters. There is also a compartment at the front for cable and so On.
Both the trailers are six-wheelers with 9.00 by 20-in, twin tyres all round and tandem rear axles. Brakes on all the rear wheels are air-pressure operated and there is a hand parking brake.