Micrograms . . .
22nd March 1957
Page 38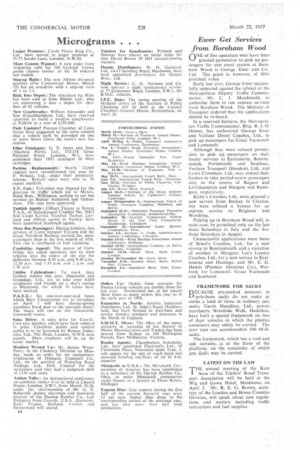 Page 38, 22nd March 1957 —
Micrograms . . .
Close
Keywords :
Larger Premises: Cords Piston Ring Co., Ltd., have moved to larger premises at 75-77 Scrubs Lane, London, N.W.10.
More Comets Wanted: A new order from Argentina calls for 100 Leyland 'Comet goods chassis similar rci the 50 ordered last month.
Step-up Ratio: The new Albion six-speed gearbox (The Commercial Motor, March 15) has an overdrive with a step-up ratio d 1 to. 1.3.
Rink Into Depot :.The Aberdeen Ice Rink has been sold to John Rhind, Ltd., who are converting it into a 'depot for their fleet of '42 vehicles. • New Coachworks: William Alexander and Son (Coachbuilders), Ltd., have received approval to build a modern 'coachworks at Falkirk at a cost of .155,000.
Park Upstairs? Preston Chamber of Coinmerce have suggested to the town council that a vehicle park be provided on one or more floors above the town's new bus station.
Filter Catalogue: G. E. Jones and Sons (Machine Parts), Ltd" ' Great Portland Street, London,. W.1,have published their 1957 catalogue of filter cartridges.
Perkins Replacements:Nearly 12,000 engines were reconditioned last year by F. Perkins, Ltd., under their perpetuity scheme. ''. Rebuilt : units were sent to 16 export Markets.
T.V. Cuts: Television was blamed for the decrease in traffic which led to Messrs. Bond Bro.s..,'Willington, seeking to cut bus services to Bishop Auckland and Oakenshaw, The cuts, were approved-, Turkish. Agents Cifkurt Ticaret ve Sanap T.A.S. of Halaskargaii CaddeSi No. 368/2 Sisli damii Karsisi. fStaribul, Turkey, Leyland and Albion agents in Turkey. have been appointed Seammell agents.
More Bus Passeugeri: During Jantlary,.Mts., services of Coras lopmair•Eireann and the Great Northern Railway carried .2m.• more passengers than in the first Month of 1956. This rise is attributed to fuel rationing.
Cambridge Appeal: The mayor of Cambridge has asked operators not to send vehicles into the centre of Use city for deliveries between 8.30 a.m. and 9.30 a.m. 12,30 pm. and 1.15 p.m. and 2 p.m. and 230 P.m Jahilee Celebrations: To mark their Golden Jubilee this year, Hepworth and Cirandage. Ltd.' are to Lake over 4,000 employees and friends on a day's outing to Blackpool, for which 10 trains have been booked.
P.A..Y.E.: Six one-man-operated buses which Bury Corporation are to introduce on April 1 will have change-giving machines fitted near to the entrance doers. The buses will run on the AinsivorthUnsworth routes.
Sales Drive: A sales drive for Cure-C, Cure tyre patches, which have been reduced in price. Ceterbrite polish and control cables is to be launched by Romac Industries. Ltd.. The Hyde. London. N.W.9, next month. Main emphasis will be.. on the home market.
Hauliers Wound Up: Mr. Justice WynnParry, in the Chanecky Divisionon Monday. made, an. order for the compulsory winding-up of Highgate Transport Co., Ltd., on the petition of Pickering Road Haulage, Ltd., Hull. Counsel for the aetitioners said they had a judgment debt )f £130 and costs.
lubber Talks: An international conference on synthetic rubber is to be held at Church House, London. S.W.1. from March 26-28, under the chairmanship of Mr. G. E. Beharrell. deputy chairman and managing director of the Dunlop Rubber Co., Ltd. Delegates from Canada, TJ.S.A."Germany, Italy, France. Holland. Ceylon and Switzerland will attend,
n4
Tractors for Scandinavia: Finland and Norway have placed an initial order for nine David Brown 30 IDT aircraft,towing tractors.
Dennis Distributors: W. H. Gaiward, Ltd., 14,17 Sandling Road, Maidstone, have hecn appointed ,distributors for Dennis Bros., Ltd.
Night Service: C. G. Norman and Co. now operate a night maintenance service at 77 Grosvenor Road, London, S.W.I, for B.M.C. vehicles.
I.P.C. Date: The spring meeting of the Midland centre of the Institute of Public Cleansing will be held at the Council Chamber/ Council House, Birmingham, on April 26, Orders Up: Orders from overseas for Rootes Group vehicles are double those for last year, Switzerland has so tar placed three times as many orders this year as in the early part of 1956.
Expansion in North: Jenolite Industries (Northern), Ltd., St, John's Road, Huddersfield, has been formed to distribute and service Jenolite products and Processes in the North of England.
S,M.M.T. Move: The office of the representative in Australia of the Society of Motor Manufacturers and .the has been moved from Sydney to 104 Wellington Parade, East Melbourne, Victoria.
Bender Agents: Chamberlain Industries. Ltd" have appointed Electricals, Ltd., 14 Claremont Place, Newcastle upon Tyne. .2. sole agents for the sale of small hand and powered bending machines of up 'to' 4-in. capacity Metalas-tik i U.S.A.: Thc.! Metalastik Corporation of America has been established as a subsidiary of the Dayton Rubber Co., Ohio, to make Metalastik components under licence at a factory at Three Rivers, Michigan Exports Rise: Guy exports during the first half of the current financial year were 12 per cent, higher than those in the 'corresponding period of the previous year. and are now more than half total production.