Newcomer Granted Works Service
22nd March 1957
Page 37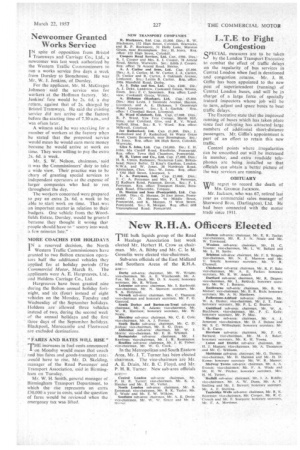 Page 37, 22nd March 1957 —
Newcomer Granted Works Service
Close
IN spite of opposition from Bristol Tramways and Carriage Co., Ltd., a newcomer was last week authorized by the Western Traffic Commissioners to run a works service five days a week from Dursley to Stonehouse. He was Mr.. W. J. Jenkins, of Dursley.
For the applicant, Mr. M. McGregor
Johnson said the service was for workers at the Hoffman factory. Mr. Jenkins' fare would be 2s. 6d. a day return, against that of 2s. charged by Bristol Tramways. He said the existing service did not arrive at the factory before the starting time of 7.30 a.m., and was often later.
A witness said he was speaking for a number of workers at the factory Ijvhen he stated that the proposed service would mean he would earn more money because he would arrive at work on time. They were willing to pay the extra 2s. 6d. a week.
Mr. S. W. Nelson, chairman, said it was the Commissioners' duty to take a wide view. Their practice was to be chary of granting special services to independent operators at the expense of larger companies who had to run throughout the day.
The workers concerned were prepared to pay an extra 2s. 6d. a week to be able to start work on time. That wa> an important matter in relation to their budgets. One vehicle from the Woodfields Estate, Dursley. would be granted because they thought it wrong that people should have to scurry into work a few minutes late." • MORE COACHES FOR HOLIDAYS IN a reserved decision, the North
Western Traffic Commissioners have granted to two Bolton excursion operators half the additional vehicles they applied for at holiday periods (The Commercial Motor, March 8). The applicants were A. E. Hargreaves, Ltd., and Holdens Carriage Co., Ltd.
Hargreaves have been granted nine during the Bolton annual holiday fortnight, and six (four) instead of eight vehicles on the Monday, Tuesday and Wednesday of the September holidays. Hoidens are allowed three vehicles instead of two, during the second week or the annual holidays and the first three dayi of the September holidaYs.
Blackpool, Morecambe and Fleetwood are excluded destinations.
"FARES AND RATES WILL RISE"
THE increases in fuel costs announced on Monday would mean that coach and bus fares and goods-transport rate3 would have to rise, Mr. D. Skelding, manager of the Road Passenger and Transport Association, said in Birmingham on Tuesday.
Mr. W. H. Smith, general manager of Birmingham Transport Department, to which the rise represents an extra 00,000 a year in costs, said the question of fares would be reviewed when the emergency tax was lifted.