" Outside" Hauliers Prejudiced ?
22nd March 1957
Page 36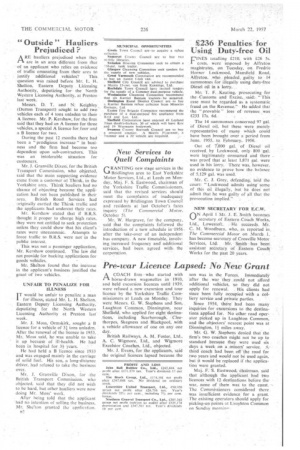 Page 36, 22nd March 1957 —
" Outside" Hauliers Prejudiced ?
Close
ARE hauliers prejudiced when they are in art area different from that
• of an applicant who relies on evidence of traffic emanating from their area to justify additional vehicles? This
• question was raised before Mr. L. H. Shelton, Eastern Deputy Liennsing Authority, deputizing for the North Western Licensing Authority, at Preston last week.
Messrs. D. T. and r,t: Keighley (Dutton Transport) sought to add two vehicles each of 4 tons unladen to their A license. Mr. P. Kershaw, for the firm said that they had an A licence for three vehicles, a special A licence for four and a B licence for two.
During the past 12 months there had been a "prodigious increase" in business and the firm had become too dependent upon sub-contractors. This was an intolerable situation for customers.
Mr. J. Granville Dixon, for the British Transport Commission, who objected, said that the main supporting evidence came from a customer-at Thirsk, in the Yorkshire area. Thirsk hauliers had no chance of objecting because the application had not been published in their area. British Road Services had Driginally carried the Thirsk traffic and the applicants had undercut their rates.
Mr. Kershaw stated that if B.R.S. thought it proper to charge high rates, they were not entitled to seek protection unless they could show that his client's rates were uneconomic. Attempts to force traffic to B.R.S. were not in the public interest.
This was not a passenger application, Mr. Kershaw continued. The law did not provide for backing applications for goods vehicles.
Mr. Shelton found that the increase in the applicant's business justified the grant of two vehicles.
UNFAIR TO PENALIZE FOR ILLNESS
I T would be unfair to penalize a man for illness, stated Mr. L. H. Shelton, Eastern Deputy Licensing Authority, deputizing for the North Western Licensing Authority at Preston last' week.
.Mr. J. Moss, Ormskirk, sought a B licence for a vehicle of 31 tons unladen. After the renewal of the licence in 1953, Mr, Moss said, he was unable to take it up because of ill-health. He had been in hospital for 34 years. .
He had held a B licence since 1.933 and was engaged mainly in the carriage of solid fuel. His son, a long-distance driver, had refused to take the business over.
Mr. J. Granville Dixon, for the British Transport Commission, who objected, said that they did not wish to be hard, but other hauliers were now doing Mr. Moss' work,
After being tad that the applicant had no intention of selling the business, Mr. Shelton granted the application.
New Services to Quell Complaints
GRANTING new stage services in the Bridlington area to East Yorkshire Motor Services, Ltd., at Leeds on Monday, Maj. F. S. Eastwood, chairman of the Yorkshire Traffic Commissioners, said that the revised services should meet the complaints of inadequacy expressed by Bridlington Town Council and residents at last October's fares inquiry (The Commercial Motor, October 5).
Mr. W. Hargrave. for the company, said that the complaints followed the introduction of a new schedule in -1956.after the take-over of an independent bus company. A new timetable, involving increased frequency and additional services, had been agreed withthe
corporation.
£236 Penalties" for Using Duty-free Oil
FINES totalling £210, with £26 5s. 1 costs, were imposed by Alfreton magistrates, on Tuesday, on Fredric Horner Lockwood, Mansfield Road, Alfreton, who pleaded, .guilty to 14 summonses for illegally using duty-free Diesel oil in a lorry.
Mn T. F...Keating, prosecuting for the Customs and Excise,.. said: "This case must be regarded as a systematic fraud on the. Revenue." He added that the " provable loss of revenue. was
• E233 17s. 6d.
The 14 summonses concerned 97 gal. of Diesel oil, but these were merely representative of many which could have been brought over a period from June, 1955. to February, 1956.
Out of 7`.800 gal. of Diesel oil received. by Lockwood, onlY 800 gal. were legitimately consumed and there was proof that at least 1,871 gal. were used in his lorry. There was. however, no evidence to prove -how the balance of 5,129 gal. was used.
• Mr. C. J. Grey, defending, told the court: "Lockwood admits using some of this oil illegally, but he does not admit that he was guilty of all that the prosecution implied."
NEW SECRETARY FOR E.C.W.
ON April 1 Mr. J. E. Smith becomes secretary of Eastern.Coach Works, Ltd., Lowestoft. He succeeds, Mr. C. M. Woodburn, who, as reported in The Commercial Motor on _March 1. has become secretary of Crosville Motor Services, Ltd. Mr. Smith has been assistant secretary of Eastern Coach Works for the past 20 years.