Inquiry to Follow Complaints About Works Service
22nd March 1957
Page 34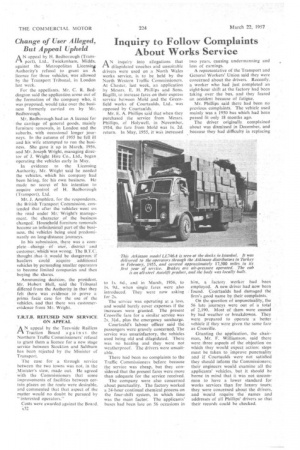 Page 34, 22nd March 1957 —
Inquiry to Follow Complaints About Works Service
Close
AN inquiry into allegations that dilapidated 'coaches and unsuitable drivers were used on a North Wales works service, is to be held by the North Western Traffic Commissioners, At Chester, last week, an application by Messrs. E. H. Phillips and Sons, Bagint, to increase fares on their express service between Mold and the Greenfield works of Courtaulds, Ltd.. was opposed by Courtaulds.
Mr. E. A. Phillips said that when they purchasedthe service from Messrs. Phillips, of Holywell. in November, 1954, the fare from Mold was Is. 2d. return. In May, 1955, it was increased to Is. 6d., and in March, 1956, to Is. 9d.. when single fares were also introduced. They were now asking for 2s.
The service was operating at a loss, and would barely cover expenses if the increases were granted. The present Crosville fare for a similar service was 2s. ald., plus the emergency surcharge.
Courtauld's labour officer said the passengers were gravely concerned. The service was unsatisfactory, the vehicles used being old and dilapidated. There was no heating and they were not weatherproof. The drivers were unsuitable.
There had been no complaints to the Traffic Commissioners before because the service was cheap, but they considered that the present fares were more than adequate for the service received.
The company were also concerned about punctuality. The factory worked a 24-hour continual chemical process on the four-shift system, in which time was the main factor. The applicants' buses had been late on 56 occasions in two years, causing underrnanning and loss of earnings.
A representative of the Transport and General Workers' Union said they were concerned about the drivers. Recently, a worker who had just completed an eight-hour shift at the factory had been taking over the bus, and they feared an accident because of fatigue.
Mr. Phillips said there had been no previous complaints. The vehicle used mainly was a 1950 bus which had been passed fit only 18 months ago.
The driver originally complained about was dismissed in December, and because they had difficulty in replacing him, a factory worker had been employed. A new driver had now been found. Courtaulds had damaged the firm's good name by. their complaints.
On the question of unpunctuality, the 56 late journeys were out of a total of 2,190. Most of them were caused by bad weather or breakdowns. They were prepared to operate a better vehicle if they were given the same fare as Crosville.
Granting the application, the chairman, Mr. F. Williamson, said there were three aspects of the objection • on which they would expect action: steps must be taken to improve punctuality and if Courtaulds were not satisfied they should inform the Commissioners; their engineers would examine all the applicants' vehicles, but it should be borne in mind that it was not uncommon to have a lower standard for works services than for luxury tours; they were concerned about the drivers, and would require the names and addresses of all Phillips' drivers so that their records could be checked.