Agreement on "30" Pay Unlikely by May 1: Shorter Day Demanded
22nd March 1957
Page 31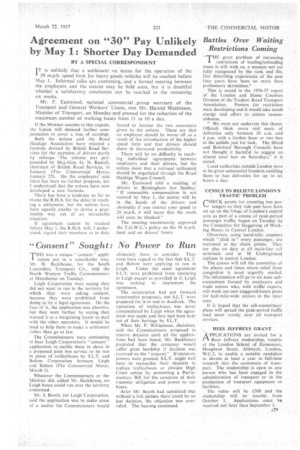 Page 31, 22nd March 1957 —
Agreement on "30" Pay Unlikely by May 1: Shorter Day Demanded
Close
BY A SPECIAL CORRESPONDENT
1T is unlikely that a settlement on terms for the operation of the 30 m.p.h. speed limit for heavy goods vehicles will be reached before May .1. Informal talks ale continuing, and a formal meeting between the employers and the unions may be held soon, but it is doubtful whether a satisfactory conclusion can be reached in the remaining six weeks.
Mr. F. Eastwood, national commercial .group secretary of the Transport and General Workers' Union, met Mr. Harold Watkinson, Minister of Transport, on Monday and pressed for the reduction of the maximum number of working hours from 11 to 10 a day.
If the Minister accedes to this request, the Union will demand further compensation to cover a loss of earnings Both the unions and the Road Haulage Association have rejected a formula devised by British Road Services for the payment of drivers partly by mileage. The scheme was pro•pounded by Maj.-Gen. G. N. Russell, chairman of British Road Services, in January (The Commercial Motor, January 25). On the employers' side there has been no further progress, but I understand that the unions have now developed a new formula, There has been a tendency so far to blame the R.H.A. for the delay in reaching a settlement, but the unions have been equally .unable to devise a practicable way out of an intractable situation.
It agreement cannot be reached before May 1, the R.H.A. will, 1 understand. regard their members as in duty
bound to honour the two assurances given to the unions. These are that no employee should be worse off as a result of the introduction df the higher speed limit and that drivers should share in increased productivity.
There will be no difficulty in reaching individual agreements between employers and their drivers, but the unions insist that a national settlement should be negotiated through the Road Haulage Wages Council.
Mr. Eastwood told a meeting of drivers in Birmingham last Sunday: -• If reasonable compensation is not secured by May 1, the matter will be in the hands of the drivers and obviously if you restrict your speed to 20 m.p.h. it will mean that the roads will soon be blocked."
The meeting unanimously approved the T.G.W.U.'s policy on the 30 m.p.h. limit and on drivers' hours.