Drivers' Competition Stilt Uncertain
22nd March 1957
Page 30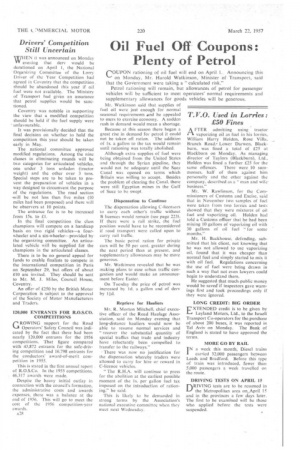 Page 30, 22nd March 1957 —
Drivers' Competition Stilt Uncertain
Close
WTHEN it was announced on Monday V, evening that dery would be derationed on April I, the National Organizing Committee of the Lorry Driver of the Year Competition had agreed in Coventry that the competition . should be abandoned this year if oil fuel were not available. The Ministry of Transport had given an assurance that petrol supplies would be sanctioned.
Coventry was notable in supporting the view that a modified competition should be held if the fuel supply were ' unfavourable.
It was provisionally decided that the final decision on whether to hold the competition this year should be taken early in May.
The national .committee approved modified regulations. Among the nine classes in eliminating rounds will be two categories for articulated vehicles, one under 3 tons unladen (tractor weight) and the other over 3 tons. Special steps are to be taken to prevent the preparation of vehicles in a way designed to circumvent the purpose of the regulations. The road section swill be not less than five miles (10 miles had been proposed) and there will be observers at 10 points.
The entrance fee is to be increased from 15s. to SI.
In the final competition the class champions will compete on a handicap basis on two rigid vehicles—a fourwheeler and a six-wheeler—provided by the organizing committee. An articulated vehicle will be supplied fot the champions in the articulated classes.
There is to be no general appeal for funds to enable finalists to compete in the international competition in Paris on September 29, but offers of about £10 arc invited. They should be sent to Mr. M. J. Miles, Council House, Coventry.
An offer of £250 by the British Motor Corporation is subject to the approval of the Society of Motor Manufacturers and Traders.
120,000 ENTRANTS FOR R.O.S.CO. COMPETITIONS
GROWING support for the Road Operators' Safety Council was indicated by the fact that there had been nearly 120,000 entrants for the 1956 competitions. That figure compared with 43,872 entrants for the safe-driving competition and 16.798 entrants for the conductors' award-of-merit competition in 1955.
This is stated in the first annual report of R.O.S.Co. In the 1955 competitions. 46,317 awards were made.
Despite the heavy initial outlay in connection with the council's formation, the administrative costs and awards expenses, there was a balance at the end of 1956. This will go to meet the cost of the 1956 competition-year awards.
A28