One Hears—
22nd March 1957
Page 29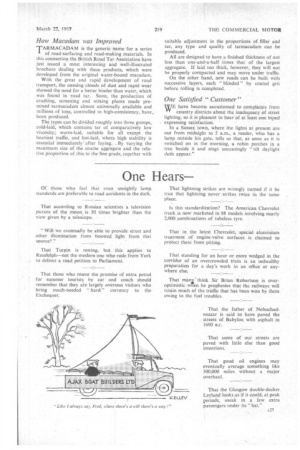 Page 29, 22nd March 1957 —
One Hears—
Close
Of those who feel that even unsightly lamp standards are preferable to road accidents in the dark.
That according to Russian scientists a television picture of the moon is 30 times brighter than the view given by a telescope.
"Will we eventually be able to provide street and other illumination from boosted light from that source? "
That Turpin is resting, but this applies to Randolph—not the modern one who rode from York to deliver a road petition to Parliament.
That those who resent the promise of extra petrol for summer tourists by car and coach should remember that they are largely overseas visitors who bring much-needed " hard " currency to the Exchequer. That lightning strikes are wrongly named if it be true that lightning never strikes twice in the same place.
Is this standardization? The American Chevrolet truck is now marketed in 88 models involving nearly 2,000 combinations of tubeless tyre.
That in the latest Chevrolet, special aluminium treatment of engine-valve surfaces is claimed to Protect these from pitting.
That standing for an hour or more wedged in the corridor of an overcrowded train is an unhealthy preparation for a day's work in an office or anywhere else.
That mana. think Sir Brian Robertson is overoptimistic wnen he prophesies that the railways will retain much of the traffic that has been won by them owing to the fuel troubles.
That the father of Nebuchadnezzar is said to have paved the streets of Babylon with asphalt in 1600 s.c.
That some of our streets are paved with little else than good intentions.
That good oil engines may eventually average something like 300,000 miles without a major overhaul.
That the Glasgow double-decker Leyland looks.as if it could, at peak periods, sneak in a few extra passengers under its." hat."