Industrial Claustrophobia
22nd March 1957
Page 27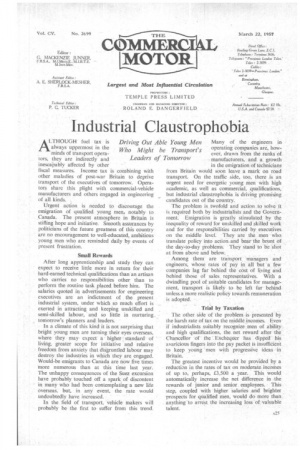 Page 27, 22nd March 1957 —
Industrial Claustrophobia
Close
ALTHOUGH fuel tax is always uppermost in the minds of transport operators, they are indirectly and inescapably affected by other fiscal measures, Income tax is combining with other maladies of post-war Britain to deprive transport of the executives of tomorrow. Operators share this plight with commercial-vehicle manufacturers and others engaged in engineering of all kinds. , Urgent action is needed to discourage the emigration of qualified young mem notably to Canada. The present atmosphere in Britain is stifling hope and initiative. Smooth assurances by politicians of the future greatness of this country are no encouragement to well-educated, ambitious young men who are reminded daily by events of present frustration.
Small Rewards After long apprenticeship and study they can expect to receive little more in return for their hard-earned technical qualifications than an artisan who carries no responsibilities other than to perform the routine task placed before him. The salaries quoted in advertisements for engineering executives are an indictment of the present industrial system, under which so much effort is exerted in attracting, and keeping unskilled and semi-skilled labour, and so little in nurturing. tomorrow's planners and leaders.
In a climate of this kind it is not surprising that bright young men are turning their eyes overseas, where they may expect a higher, standard of living, greater scope for initiative and relative freedom from anxiety that disgruntled labour may destroy the industries in which they are engaged. Would-be emigrants to Canada are now five times more numerous than at this time last year. The unhappy consequences of the Suez excursion have probably touched off a spark of discontent in many who had been contemplating a new life overseas_ but, in any event, the rate would undoubtedly have increased.
In the field of transport, vehicle makers will probably be the first to suffer from this trend. Many of the engineers in operating companies are, however, drawn from the ranks of. : manufacturers, and a growth in the emigration of technicians from Britain would soon leave a mark on road transport. On the traffic side, too, there is an urgent need for energetic young men with high academic, as well as commercial, qualifications, but industrial claustrophobia is driving promising candidates out of the country.
The problem is twofold and action to solve it is required both by industrialists and the Government. Emigration is greatly stimulated by the inequality of reward for unskilled and skilled work and for the responsibilities carried by executives on the middle level. They are the men Who translate policy into action, and bear the brunt of. the day-to-day problems. They stand to be shot at from above and below. _ Among them are transport managers and engineers, whose rates of pay in all but a few companies lag far behind the -cost of living and behind those of sales representatives. With a dwindling pool of suitable candidates for manageMerit, transport is likely to be left far behind unless a more realistic policy towards remuneration is adopted.
Trial by Taxation The other side of the problem is presented by the harsh rate of tax on the middle incomes. Even if industrialists suitably recognize men of ability and high qualifications, the net reward after the Chancellor of the Exchequer has dipped his avaricious fingers into the pay packet is insufficient to keep young men with progressive ideas in Britain.
The greatest incentive would be provided by a reduction in the rates of tax on moderate incomes of up to, perhaps, 0,500 a year. This would automatically increase the net difference in the rewards of junior and senior employees. This step, coupled with higher salaries and brighter prospects for qualified men, would do more than anything to arrest the increasing loss of valuable talent.