THE CHAR-A-BANCS HOOD.
22nd March 1921
Page 24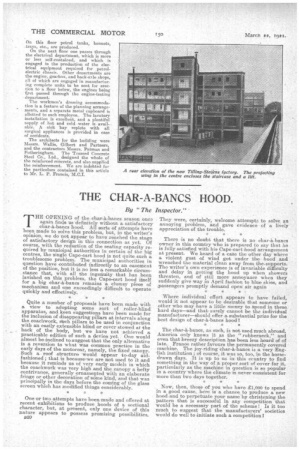 Page 24, 22nd March 1921 —
THE CHAR-A-BANCS HOOD.
Close
By "The
THE OPENING of the char-à-bancs season once again finds us definitely without a. satisfactory char-h.-banes hood. All sorts of attempts have been made to solve this problem, but, in the writer's opinion, we do not appear to have reached the stage of satisfactory design in this connection as yet. Of course, with the reduction of the seating capacity required by municipal authorities in certain of the big centres, the single Cape-cart hood is not quite such a troublesonie problem. The municipal authorities in question have contributed indirectly to an easement of the position, but it is no less a remarkable cireumstance that, with all the ingenuity that has been lavished on this problem, the Cape-cart hood itself for a big char-à--ban ns remains a clumsy piece of mechanism and one exceedingly difficult to operate quickly and effectively.
* * *
Quite a number of proposals have been raade with a view to adopting some sort of roller-blind apparatus, and keen suggestions have been made for the inclusion of disappearing pillars at intervals along the coachwork, stieh pillars to be used in conjunction with an easily extensible blind or cover stowed at the back of the body, but we have not achieved a practicable edition of such a device yet. One would almost be inclined to suggest that the only alternative is a reversion to what was .common practice in the early days of the motorcar, namely, the fixed canopy. Such a roof structure would appear to-clay oldfashioned ; that is because.-we are not used to it and because it reminds us of very early models in which the coachwork was very high and the canopy a hefty contrivance, generally ornamented with an elaborate fringe or ether decoration of-sOine kind, and that was principally in the days before the coming of the glass screen which has modified things considerably.
* * * One or two attempts have been made and offered at recent exhibitions to produce hoods of a sectional character, but, at present, only one device of this nature appears to possess promising possibilities.
820 They were, certainly, welcome attempts to solve an annoying problem, and gave evidence of a lively appreciation of the trouble.
There is no doubt that there is no char-h-bancs owner in this country who is prepared to say that he is fully satisfied with his Cape-cart hood arrangement at present. We heard of a case the other day where a violent gust of wind got under the hood and wrenched the material clean away from the.supports. The writer's own experience is of invariable difficulty and delay in getting t4 hood up when showers threaten, and of still more annoyance when they suddenly give way in April fashion to blue skies, and passengers promptly demand open air again Where individual effort appears to have failed, would it not appear to be desirable that someone or other who may have a little money to spend in these hard days—and thatsurely cannot be the individual manufacturer—should offer a substantial prize for the best design of char-h-bancs hood ?
The char-h-banes, as such, is not used much abroad. America only knows it as the "rubberneck." and even that breezy description has been less heard of of late. France rather favours the permanently covered machine. The joy-riding char-6,-banes is a very English institution ; of course, it was so, too, in the horsedrawn days. It is up to us in this country to find something in the way of a proper sort of cover for it, particularly as the machine in question is so popular in a country where the .climate is never consistent for more than two days together.
Now, then, those of you who have 21,000 to spend in a good cause, here is a chance to produce a new hood and to perpetuate your name by christening the pattern that is successful in any competition that would be a necessary part of the scheme ! Is it too much to suggest that the manufacturers societies would do well to initiate such a competition 7