Out and Home Rhyming Results andm t . —the _ Results of Rhyming. V "The Extractor."
22nd March 1917
Page 11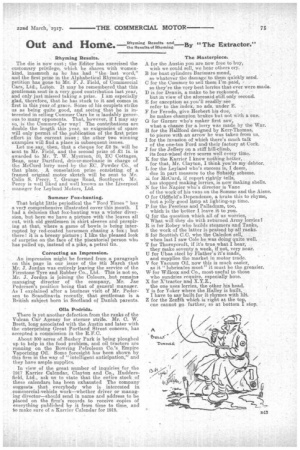 Page 11, 22nd March 1917 —
Out and Home Rhyming Results andm t . —the _ Results of Rhyming. V "The Extractor."
Close
Rhyming Results.
The die is now cast ; the Editor has exercised the customary privilege, which he shares with womenkind, inasmuch as he has had " the last word," and the first prize in. the Alphabetical Rhyming Competition has gone to Mr. F. J. Field, of Commercial Cars, Ltd., Luton. It may be remembered that this gentleman sent in a very good contribution last year, and only just missed taking a. prize. I 'am especially glad, therefore, that he has stuck to it and comes in. first in this year of grace. Some of his couplets strike us as being quite good, and seeing that he is interested in selling Cominer Cars he is laudably generous to many opponents. That., however, if I may say 18. the Commer-Car way! The contributions are double the length this year, 80 exigencies of space will only permit of the publication of the hest prize. effort in the current issue ; the other two Winning examples will find a place in subsequent issues.
Let me say, then, that a cheque for 22 2s. will be sent to Mr. Field, and the second prize of £1 is. is awarded to Mr. 'T. W. Myerson, 10, EC Cottages, Bean, near Dartford, driver-mechanic in charge of the McCurd lorry used by the EC. Powder Co" of that place. A consolation prize consisting of a framed original motor sketch will be sent to Mr. Colin S. Percy, 7, Grange Road, Southport. Mr. Percy is well liked and well known as the Liverpool manager for Leyland Motors, Ltd.
Summer Fox-hunting.
That bright little periodical the "Ford Times " has a very comprehensive illustrated cover this month. I had a delusion that fox-hunting was a winter diversion, but here we have a picture with the leaves all out, with old gentlemen in shirt sleeves and perspiring at that, where a game of bowls is being interrupted by red-coated horsemen chasing a fox ; but there! it is a breezy picture ; I like the pleased look of surprise on the face of the piscatorial person who has pulled up, instead of a pike, a petrol tin.
Correcting an impression.
An impression might be formed from assearagraph on this page in, our issue of the 8th March that Mr. J. Jordan was entirely leaving the service of the Firestone Tyre and Rubber Co., Ltd. This is not so, Mr. j. Jordan is joining the Colours, but remains managing director of the company, Mr. Jac Pedersen 's position being that of general manager. As I explained after a business visit of Mr. Pedersen to Scandinavia, reeently, that gentleman is a British subject born in Scotland of Danish parents.
011a Podrida.
There is yet another defection from the ranks of the Vulcan Car Agency for sterner strife. Mr. C. W. Brett, long associated with the Austin and later with the enterprising Great Portland Street concern, has accepted a commission in the R.F.C.
About 300 acres of Bushey Park is being ploughed up to help in the food problem, and oil tractors are running on the Bowring Petroleum Co.'s Empire Vaporizing Oil. Some foresight has been shown by this firm in the way of "intelligent anticipation," and they have ample supplies.
In view of the great number of inquiries for the 1917 Karrier Calendar, Clayton and Co., Huddersfield, Ltd., ask us to state that the entire stock of these calendars has been exhausted The company suggests that everybody who is interested in commercial-vehicle work—whether driver or managing director—should send in name and address to be placed on the firm's records to receive copies of everything published by it from time to time, and to make sure of a Karrier Calendar for 1918. The Masterpiece.
A for the Austin you are now free to buy, wish we could sell, we hear others cry. • B for bust cylinders Barinears mend, so whatever the damage to them quickly send. C for the Conarner to sell them I'm paid,
so -they're the very best lorries that ever were made.
D is for Dennis, a make to be reckoned, . but in view of the aforesaid still only second.
E for exception as.you'll readily see refer to the index, no ads. under E. • F for Ferode, give Herbert his due, he makes champion brakes but not With a cue.
G for Garner who's maker first saw, what a chance for a lorry was made by the War. H for the HalIford designed by Kerr-Thomas, to pierce with an arrow he was taken from us.
I for the invasion of which there's much talk of the one-ton Ford and their factory at Cork.
J for the Jeffery on a stiff hill-climb, its four-wheel drive scores well every time.
K for the Karrier I know nothing better, for that, Mr. Clayton, I think you're my debtor.
L for the Leyland who's success is, I deem, due in part measure to the Subsidy scheme.
i. for McCurd, if report rightly tells,
has stopped makihg lorries, is now making shells. N for the Napier who's director is -Vane
of the work of his vans on the Somme and the Aisne.
O for Oldfield'e Dependence, a brute this to rhyme, but a jolly good lamp at lighting-up time. P for the Peerless and Palladium, too,
which is the better I leave it to you.
Q for the question which all of us worries, What willsthey do with returned Army lorries? R is fot Robey who builds steamers and Tanks, the work of the latter is praised by all ranks.
S for Scottish C.C. who the Caledon sell,
when last I saw Cole he was doing quite well. T for Thornycroft, if it's true what I hear,
they make seventy a week, if not, very near. • U for Ubas steel by Flather's it's made, and supplies the market in motor trade. ✓ for Vacuum Oil, now this is much easier, as it "lubricates most" it must be the greasier. IV for Willcox and Co., most useful to those who sundries require, especially hose. X for X'tractor and X.Y.Z.,
the one uses lorries' the other his head.
Y is for Yoker where the Halley is built, have to say built for it rhymes with lilt.
Z for the Zenith which is right at the top, ene cannot go further, so at bottom I stop.