MUNICIPAL CLEANSING PROGRESS IN GERMANY.
22nd June 1926
Page 20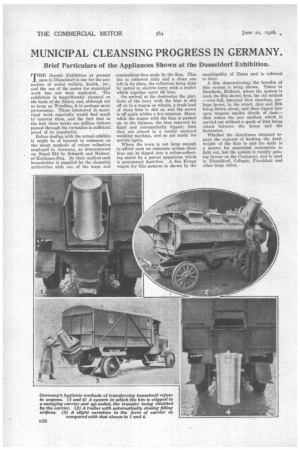 Page 21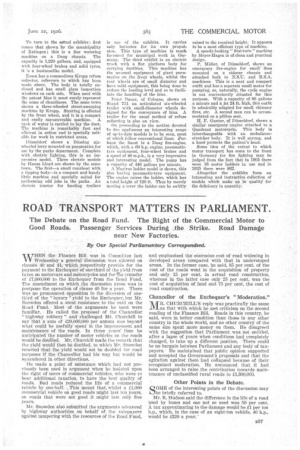 Page 20, 22nd June 1926 —
MUNICIPAL CLEANSING PROGRESS IN GERMANY.
Close
Brief Particulars of the Appliances Shown at the Dusseldorf Exhibition.
THE Gesolei Exhibition at present open in Dusseldorf is one for the promotion of social welfare, health, etc., and the use of the motor for municipal work has not been neglected. The exhibition is magnificently situated on the bank of the Rhine, and, although not so large as Wembley, it is perhaps more picturesque. Those interested in municipal work especially would find much to interest them, and the fact that in the first three weeks one million visitors passed through the turnstiles is sufficient proof of its popularity.
Before dealing with the actual exhibits it might be of interest to comment on the latest methods of refuse collection employed in Germany, as demonstrated on Stand 614 by Schmidt and Mehner, of Heidenau-Sieg. By their method each householder is supplied by the cleansing authorities with one of the large and commodious bins made by the firm. This bin is collected daily and a clean one left in its place, the collection being done by petrol or electric lorry with a trailer which together carry 04 bins.
On arrival at the destructor the platform of the lorry with the bins is slid off on to a wagon on wheels, a fresh load of clean bins is slid on and the motor is off again within a few minutes. Meanwhile the wagon with the bins is pushed up to the furnace, the bins removed by hand and automatically tipped ; then they are placed in a totally enclosed washing machine, and so are ready for service again.
Where the town is not large enough to afford such an elaborate system these bins can be tipped into a refuse-collecting motor by a patent apparatus which is guaranteed dust-free. A fine Krupp wagon for this purpose is shown by the municipality of Essen and is referred to later.
A film demonstrating thebenefits of this system is being shown. Taken in Enschede, Holland, where the system is used, the film shows, first, the old method —over-full, battered bins standing, perhaps hours, in the street, dust and filth being blown about, and then tipped into open wagons amidst clouds of dust— then comes the new method, which is carried out without a speck of dust being raised between the house and the destructor.
Whether the cleanliness obtained repays the expense of hauling the deadweight of the bins to and fro daily is a matter for municipal economists to fight out, but the system is rapidly gaining favour on the Continent, and is used in Dusseldorf, Cologne, Frankfurt and other large cities.
To turn to the actual exhibits: first comes that shown by the municipality of Ratingen; this is a fine watering machine on a Daag chassis. The capacity is 1,220 gallons, and, equipped with four-wheel brakes and solid tyres, it is a businesslike model.
Essen has a commodious Krupp refuse collector, reference to which has been made above. The body is totally enclosed and has small glass inspection windows on each side, When used with the patent bins it must surely represent the acme of cleanliness. The same town shows a three-wheeled street-sweeping machine by Krupp. Steering is effected by the front wheel, and it is a compact and easily makicouvrable machine. A tank of water is carried to lay the dust. The machine is remarkably fast and efficient in action and is specially Suitable for work in restricted areas.
Dusseldorf shows a Bussing sixwheeled lorry mounted on pneumatics for use by the parks department. Complete with electric lighting, this is an impressive model. Three electric models by Hansa Lloyd are shown by the same town. The first—a small runabout with a tipping body—is a compact and handy' little machine and specially suited for performing odd jobs in the parks. An electric tractor for hauling trailers
is one of the exhibits. It carries only batteries for its own propulsion. This type of • machine is much, favoured for municipal work in Germany. The third exhibit is an electric truck with a flat platform body for carrying dustbins. This machine has the unusual equipment of giant pneumatics oil the front wheels, whilst the rear wheels are of small diameter and. have solid equipment, this being done to reduce the loading level and so to facilitate the handling of the bins.
Peter Bauer, of Cologne, shows on Stand 731 an 'articulated six-wheeled trailer with small-diameter wheels. designed for the conveyance of bins. A trailer for the usual method of refuse collecting is also on view.
On proceeding to the section devoted to fire appliances an interesting range of up-to-date models is to be seen, Most of which follow conventional lines. Perhaps the finest is a Daag fire-engine, which, with a 60 h.p. engine, pneumatictyre equipment, four-wheel brakes and a speed of 40 m.p.h., is a very impressive and interesting model. The pump has a capacity of 440 gallons per minute.'
A Magiras ladder model is shown, this also Itaviug pneumatic-tyre equipment. The engine raises the ladder, which hag a total height of 120 ft. Thus by merely moving a lever the ladder can be swiftly raised to the required height. It appears to be a most efficient type of machine.
A speedy-looking " first-turn " machine by Meyer-Hagen is of clean and practical design.
P. 3fflhler, of Diisseldorf, shows an emergency fire-engine for small– fires mounted on a sidecar chassis and attached both to and B.S.A. machines. This is a neat and compact outfit an.d has a separate small motor for pumping, as, naturally, the cycle engine is not conveniently situated for this purpose. With a capacity of 80 gallons a minute and a jet 24 ft. high, this outfit is admirably adapted for small chimney fires, etc. A second man can be accommodated on a pillion seat.
H. F. Gunter, of Diisseldorf, shows a similar emergency engine attached to a Quadrant motorcycle. This body is interchangeable with an ambulancestretcher body. It is well sprung, and a hood protects the patient's head.
Some idea of the extent to which motor transport has come to the front in Germany for fire fighting may be judged from the fact that in 1905 there were 16 motor ladders in use and in 1925 there were 862.
Altogether the exhibits form an interesting and instructive collection of models which make up in qualitY for the deficiency in quantity.