ONE HEARS
22nd June 1920
Page 3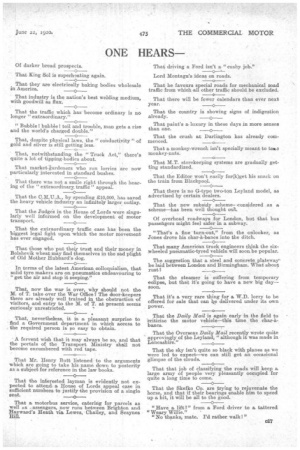 Page 3, 22nd June 1920 —
ONE HEARS
Close
Of darker bread prospects.
That King Sol is superheating again.
That they are electrically baking bodies wholesale in America.
That industry is the nation's best welding medium, with goodwill as flux.
That the traffic which has become ordinary is no longer "extraordinary."
"Bubble I bubble I toil and trouble, man gets a rise and the world's charged double."
That, despite physical laws, the " conductivity "of i gold and silver s still getting less.
That, notwithstanding the "Truck Act," there's quite a lot of tipping-bodies about.
That marketiardeners who run lorries are now particularly interested in standard bushes.
That there was nota smile right through the hearing of the "extraordinary traffic" appeal.
That the C.M.U.A., by spending 210,000, has saved the heavy vehicle industry an infinitely larger outlay.
That the judges in the House of Lords were singularly well informed on the development of motor transport. 0 That the extraordinary traffic ease has been. the biggest legal fight upon. which the motor movement has ever engaged.
That those who put their trust and their money in Bolshevik wheat may find themselves in the sad plight of Old Mother Hubbard's dog.
In terms of the latest American colloquialism, that solid tyre makers are on pneumatics endeavouring to "get the air and stop it seeping." .
That, now the war is over, why should not the T M. of . take over the War 01ce7 The door-keepers there are already well trained in the obstruction of visitors, and entry to. the IL of T. at present seems curiously unrestricted.
That, nevertheless, it is a. pleasant surprise to find a Government department in which access to the required person is so easy to obtain.
• A fervent wish that it may always be so, and that the portals of the Transport Ministry shall not became encumbered with red_ tape.
That Mr. Henry Butt listened to the arguments which are going to take his name down to posterity as a subject for reference in the law books.
That the interested layman is evidently not expected to attend a House of Lords appeal case in sufficient numbers to justify the provision of a single seat.
That a motorbus service, catering for parcels as well as . assengers, now runs between Brighton and Hayward's Heath via, Lewes, Chailey, and Scaynes Hill That driving a Ford isn't a "cushy job."
Lord Montagu's ideas on roads.
That he favours special roads for mechanical road traffic from which all other traffic should be excluded.
That there will be fewer calendars than ever next year.
That the country is showing signs of indigestion already.
That paint's aluxury in these days in more senses than one. 0 That the crush at Darlington has already commenced.
That a monkey-wrench isn't specially meant to tat monkey-nuts.
That M.T. storekeeping systems are gradually getting standardized.
That the Editor won't easily for(k)get his snack on the train from Blackpool.
That there is no G-type two-ton Leyland model, as advertised by certain dealers.
That the new subsidy scheme--considered as a scheme—has been. well thought out.
Of overhead roadways for London, but that bus passengers might feel safer in a subway.
"That's a fine turn-out," from the onlooker, as Jones drove his char-it-banes into the ditch.
That many American truck engineers think the sixNheeled pneumatic-tyred vehicle will soon.be popular.
The suggestion that a. steel and concrete platewar. be laid between London and Birmingham. What about rust?
That the steamer is suffering from temporary eclipse, but that it's going to have a new big day— Boon.
That offered power. it's a very rare thing for a W.D. lorry to be for sale that can be delivered under its own That the Daily Mail is again early in the field to 'criticise the motor vehicle—this time the char-a banes. 0 , That the Overseas Daily Mail recently wrote quite approvingly of the Leyland, "although it was mule in Lancashire." 0 That the sky isn't quite so black with planes as we were led to expect—we can still get an occasional glimpse of the clouds.
That that job of classifying the roads will keep a large army of people very pleasantly occupied for quite a long time to come.
That the Skefko Co. are trying to rejuvenate the horse, and that if their bearings enable him to speed up a bit, it will be all to the good.
"Have a lift?" from a Ford driver to a tattered "Weary Willie." ' "No thanks, mate. I'd rather walk!"