TRANSPORT TIPS FOR TRADESMEN.
22nd June 1920
Page 20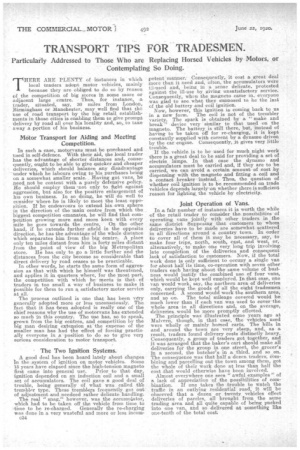 Page 20, 22nd June 1920 —
TRANSPORT TIPS FOR TRADESMEN.
Close
Particulaily Addressed to Those Who are Replacing Horsed Vehicles by Motors, or Contemplating So Doing.
THERE ARE PLENTY of instances in which local traders adopt motor vehicles, mainly 'because they are obliged to do so by reason of the competition of big stores in some more or adjacent large centre. Thus, for instance, a trader, situated, say, 30 miles from London, Birmingham or Manchester, may well find that the use of road transport by the big retail establishments in those cities is enabling them to give prompe delivery by road all over his locality end, soeto take away a portion of his business.
Motor Transport for Aiding and Meeting Competition.
In such a case, motorvans must be purchased and used in self-defence. With their aid, the local trader has the advantage of shorter distances and, consequently, ought to be able to give quicker And cheaper deliveries, which should balance any disadvantage under which he labours owing to his purchases being on a somewhat smaller scale. Having got vans, he need not be content with a purely defensive policy. He -should employ them 'not only to fight against aggression, but also for the positive enlargement of his own business. In so doing, he will do well to consider where he is likely to meet the least opposition. If he endeavours to extend his own sphere in the direction of the main centre from which the biggest competition emanates, he will find that cornpetition growing more and more keen with every
mile he goes towards the centre. On the other hand, if he extends further afield in the opposite direction, he has the advantage of the whole distance which separates him from the big Centre. A place only ten miles distant from him is forty miles distant from the point of view of the big Metropolitan store. He has only to go a little further and the distances from the city become so considerable that direct delivery by road ceases to be practicable. In other words, he starts the same form of aggression as that with which he himself was threatened, and applies it in quarters where, for the most part, the competition with which he meets is that of traders in too small a way of business to make it Possible for them to run e satisfactory motor service at all.
The process outlined is one that has been very generally adopted more or less unconsciously. The fact that it has been adopted is really one of the chief reasons why the use of motorvans has extended so much in this country. The use has, so to speak, grown from the big centres, and competition by the big man desiring extension at the expense of the smaller man has had the effect of forcing practicelle everyone in a position to do so to give vele serious consideration to motor transport.
' The Two Ignition Systems.
A good deal has been heard lately about changes e in thesystem of ignition on motor vehicles. Some
15 years have elapsed since the high-tension magneto
first came into general use. Prior to that day, ignition depended on an induction coil and a small set of accumulators. The coil gave a good deal of trouble, being generally of what was called the trembler type. These tremblers frequently got out of adjustment and needeed rather delicate handling. The real "snag,"however, was the accumulator, which had to be taken off the vehicle from time to -time to be re--charged. Generally the re-charging was done in a very wasteful and more or less income e34
• Ipetent manner.Consequently,it cost a, great deal more than it need and, often, the accumulators were id-used and, being in a sense delicate, protested against the ill-use by giving unsatisfactory service. Consequently, when the magneto came in, everyone was glad to see what they supposed to be the last of the old battery and coil ignition. Now, however, this ignition is coming back to us in a new form. The coil is not of the trembler variety. The spark is obtained by a "make and break" device very similar to that used on the magneto. The batteryis still there, but, instead of having to be taken off for re-charging, it is kept constantly supplied with current by a dynamo driven by the car engine. Consequently, it gives very little trouble.
If the vehicle is to be used for much night work there is a great deal to be said for providing a set of electric lamps. In that case the dynamo and accumulators must be carried and, if they are to be carried, we can .avoid a certain amount of .cost by dispensing with the magneto and fitting a coil and a contact breaker instead. Thus, the question of whether coil ignition is. to be recommended on trade vehicles depends largely on whether there is sufficient reason for lighting. the vehicle by electricity.
Joint Operation of Vans.
In a fair number of -instances it is worth the while of the retail trader to consider the possibilities Of operating vans jointly with other traders. in the same district Supposing that customers to whom deliveries have to be made are somewhat scattered in all directions around a country town. In order to cover all of them it may be necessary, say, to make four trips, north, south, east, and west, or, alternatively,: to make •one very long trip involving late completion of the deliveries and consequent lack of satisfaction to customers. Now, if the total work done is only sufficient to occupy a single van for about half its time, co-operation with seven other • traders each having .about the same volume of business would justify the combined use of four vans, which would be kept well employed. In that case, one van would work, say, the northern area of deliveries only, carrying the goods of all the eight tradesmen concerned. A second would work the southern area, and so on. The total mileage covered would be much lower than if each van was used to cover the whole areain all directions and, on the average, deliveries would be more promptly effected.
The principle waa illustrated some years ago at Malvern, though, in that caee, the vehicles used were wholly or mainly horsed carts. The hills in and around the town are very steep, and, as a result-, traders found delivery costs distinctly heavy. Consequently, a group of traders got together, and it was arranged that the baker's cart should make all deliveries for the group iii one street. the grocer's in a second, the butcher's in a third, and so on. The consequence was that half a dozen traders, combining and parcelling out the town among them, got the whole of their work done at less than half the cost -that would otherwise have been involved.
Almost everywhere one sees "awful examples" of a lack of appreciation of the iposeibilities of com bination. If one takes the trouble to watch the traffic in an outlying residential road, it will be observed that a dozen or twenty vehicles effect deliveries of parcles, all brought from the same trading area arid all quite capable of being packed into one van, and so delivered at something like one-tenth of the total cost: