THE NEW SUBSIDY SCHEME.
22nd June 1920
Page 19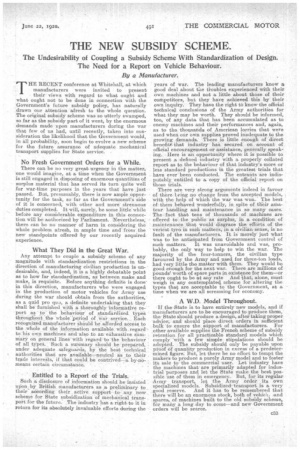 Page 19, 22nd June 1920 —
THE NEW SUBSIDY SCHEME.
Close
The Undesirability of Coupling a Subsidy Scheme With Standardization of Design. The Need for a Report on Vehicle Behaviour. By a Manufacturer.
THE RECENT conference at Whitehall; at which manufacturers were invited to present their views with regard to what ought and what ought not to be done in .connection with the Government's future subsidy policy, has naturally . drawn our attention 'afresh to tho whole question. The original Subsidy scheme was so utterly swamped, so far as the subsidy part of it went, by the enormous demands made upon manufacturers during the war that few. of us had, until recently, taken into consideration the likelihood that the Government would, in all probability, soon begin to evolve. a new scheme for the future assurance of adequate mechanical transport supplies for State service.
No Fresh Government Orders for a While.
There can be no very great urgency in the matter, one would imagine, at a time when the Government is still engaged in disposing of enormous quantities of surplus material that has served its turn quite well for war-time purposes in the years that have just passed.. But, presumably, there is now ample ,opportunity for the task, so far as the Government's side of it is concerned, with other and more. strenuous duties completed. It will, surely, be some little' while before any considerable expenditure in this connection will be authorized by Parliament. .NeVertheless, there can be no manner of harm in considering the whole problem afresh, in ample time and...fromthe new standpoints offered by our recently acquired experience.
What They Did in the Great War.
Any attempt to couple a, subsidy scheme of any magnitude with standardization restrictions in the direction of manufacturing civilian production is undesirable, and, indeed, it is a highly debatable point as to how far standardization; as between make and make, is requisite, Before anything definite is done' in this direction, manufacturers who were engaged in the production of motor vehicles for Army use during the war should obtain from the authorities, as a quid pro quo, a .definite undertaking that they shall be furnished with .a thoroughly informative re: port as ' to the behaviour of standardized types throughout the whole' 'period of war • servic. . Each recognized manufacturer should be .4:forded .a.Cceii to the whole. of the 'information available. viii regard-to his oWn machines and-alsO.te an eklianStive anni. /nary on general lines' with regard to the behavidur : of . all tYPeS.Such a. summary should be.PrePared, : under adequate safeguards, by the best ' teehnic.al . authorities that are 'aVailable=rieutral an to their . trade intereits,' if that onnid be contrived---a. by-nO . , . Means certain cirCumstanoc. , • . . Entitled to a Report of the Trials.
Such a disclosure of information should be insisted upori,by British manufacturers as a preliminary to their according their active support to any new scheme for State subsidization of naechanica.1 transport for the future. The industry lia.t a right to it in return for its absolutely invaluable efforts during the years of war. The leading manufacturers know a good deal about the tioubles experienced with their own machines and not a little about those of their coMpetitors, but they have achieved this by their own inquiry. They have the right ta.know the official technical conclusions of the Army authorities for what they may be worth. They should be informed, too, of any data that has been accumulated as to enemy machines and their performances and, again, as to the thousands of American lorries that were used when our own supplies proved inadequate to the growing demands. There is little enough of .direct benefitt that industry has secured on account of official encouragement or assistance, generally speaking.. Here is an opportunity where it is possible to present a defined industry with a properly collated report as to the behaviour of that industry's more or less standard productions in the greatest trials that have ever been conducted. The entrants are indisputably entitled to a, copy of the official report on those trials.
There are very strong arguments indeed in favour of thereLeing no change from the accented models, , with the help of which the war was won.. The best of• them behaved wonderfully, in spite of tlfeir amateur handling and maintenance in so many cases. The fact that tens of thousands of machines are offered to the public as Surplus,in a condition of maintenance that would disgrace the efforts of the veriest tyro 'in such matters, in a. civilian sense, is no fault of the manufacturers. It is merely just what was to be anticipated from Government control of such matters. It was unavoidable and was, probably, the only way to help to win the war. The majority of the four-tonners, the civilian type favoured by the Army and used for three-ton loads, had very little the matter with them. They would be good enough for the next war. There are millions of pounds' worth of spare parts in existence for them—or there ought to be at any rate And that, alone, must Weigh i.n any contemplated scheme for altering the types that are a;oceptable to the Government, at a time when we are all screaming for economy.
A W.D. Model Throughout.
If the State is to have entirely new models, and if manufacturers are to be encouraged to produce them, the. State should produce a design, after taking pre+per advice; and should place direct orders in sufficient bulk ".to• ensure the suipport of manufacturers. For other available supplies the French scheme of subsidy retention. for all practicable standard models which comply 'with a few simple stipulations should be adopted. The subsidy should only be Payable upon proof of quantity production in excess of a, predetermined figure. But, let there be no effort to tempt the niakers to produce a purely Army model and to foster its Sale to the commercial user. Let industry have the Machin th es at are prima indus es at are prima indus trial adapted for purposes and let the State make the best pos sible Use of them in emergency. But, for its regular Army transport, let the Army order its own specialized models. Subsidized-transport is a very good reserve. And it has to be remembered that there Will be an enormous stock, both of vehicli.. .and sparea, of machines built to the old subsidy scheme, fer many a long .day to come—and new Government orders will be scarce.