Accessories for the Civilian User.
22nd June 1916
Page 23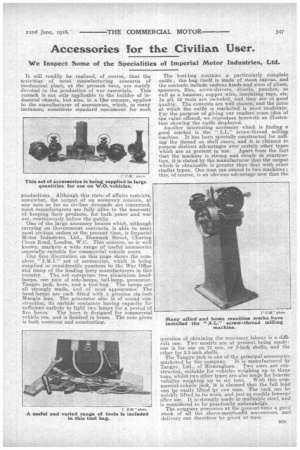 Page 23, 22nd June 1916 —
Accessories for the Civilian User.
Close
We Inspect Some of the Specialities of Imperial Motor Industries, Ltd.
It will readily be realized, of course, that the activities of most manufacturing concerns of mechanical plant, at the present time, are mainly devoted to the production of war essentials. This remark is not only applicable to the builder of industrial chassis, but also, in a like manner,. applies to the manufacturer of accessories, which, m many instances., constitute standard equipment for such productions. Although this state of affairs restricts, somewhat, the output, of an accessory concern, at any rate so far as civilian demands are concerned, most manufacturers are fully alive to the necessity of keeping their products, for both peace and war use, continuously before the public. One of the large accessory houses which, although carrying on Government contracts, is able to meet most civilian orders at the present time, is Imperial Motor Industries, Ltd., Denmark Street, Charing Cross Road, London, W.C. This concern, as is well known, markets a wide range of useful accessories especially suitable for commercial vehicle users.
Our first illustration on this page shows the complete " I.M.I." set of accessories, which is being supplied in considerable numbers to the War Office and many of the leading lorry manufacturers in this country. The set comprises two aluminium headlamps, one pair of side-lamps, tail-lamp, generator, Tangye jack, horn, and a tool-bag. The lamps are all strongly made. and of neat appearance: The head-lamps are each fitted with a genuine six-inch Mangin lens. The generator also is of sound construction, its carbide container having capacity foi sufficient carbide to light two lamps for a period ot
five. hours. The horn is designed for commercial vehicle use, and is finished in braes. The note given is both sonorous and penetrating. The tool-bag contains a particularly complete outfit; the bag itself is made of stout canvas, and the contents include various kinds and sizes of pliers, spanners, files, screw-drivers, chisels, punches, as well as a hammer, copper wire, insulating tape, etc. In all, 22 tools are included, and they are of good quality. The contents are well chosen, and the price at which the outfit is marketed is most moderate. For the purpose of giving our readers some idea of the value offered, we reproduce herewith an illustration showing the outfit displayed.
Another interesting accessory which is finding a good market is the " A.L." screw-thread milling machine. It has been specially constructed for milling the thread on shell cases, and it is claimed to possess distinct advantages over certain other types which are at present in use. Apart from the fact that the machine is strong and simple in construction, it is stated by the manufacturer that the output which is obtainable is greater than that with other similar types. One man can attend to two machines ; this, of course, is an obvious advantage now that the question of obtaining the necessary labour is a diffissult one. Two models are at present being made: one is for use on 75 mm. or 3-inch shells, and the other for 3.3-inch shells.
The Tangye jack is one of the principal accessories marketed by the company. It is manufactured by Tangy°, Ltd., of Birmingham Two sizes are constructed, suitable for vehicles weighing up to three tons, whilst-two other types are also made for heavier vehicles weighing up to six tons. With this commercial-vehicle jack, it is claimed that the full load can be easily lifted by one man. The lack can be quickly lifted to its work, and just as readily lowered i after use. It is strongly made n malleable steel; and is considered to be practically unbreake.lie. The coinpany possesses at the present time a good stock of all the above-mentioned accessories, and delivery can therefore be given at 'once.