ERF profits rise A FTER the excellent results recently reported by Fodens. there
22nd July 1966
Page 66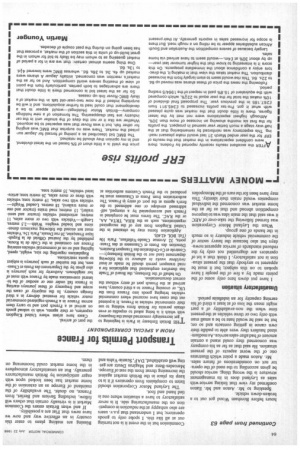 Page 66, 22nd July 1966 —
ERF profits rise A FTER the excellent results recently reported by Fodens. there
Close
were confident expectations in the market that the results of ERF for the year ended March 31 last would make pleasant reading. This expectancy was reinforced by remembering that at the half-way stage a much better year seemed in prospect, the profits for the first six months showing an increase of more than 30%.
Although highest expectations were not met by the latest figures, there is little doubt that the market was quite pleased with what it got. Pre-tax profits increased to £345,911 from £267.185 in the previous year. The proposed final dividend of 10% makes the total for the year equal to 224%, which compared with the equivalent of 15.8% paid in respect of the 1964/5 trading period.
Following the news the price of these shares was moved up 6d. to 22s. 6d. This rise would seem to stem largely from the increased distribution. The market takes the view that in making it, the directors enjoy a confidence about the immediate prospects. On this score it is interesting to know that the higher turnover last year— up by about 30% at £4m.—would seem to have arrived via home sales, Largely because of severe competition the Australian and South African subsidiaries appear to be riding on a rough road. But there is scope for increased sales in exports generally. At their present price the yield is a little short of 5% based on the latest dividend, and in my opinion they should be retained.
The BMC bid (described as a joining of forcesl for Jaguar surprised the market. There was no surprise that BMC was angling for other fish, but it was Rover that was expected to be acquired. Whether we like it or not the days of the smaller unit in the car industry are fast disappearing. The formation of a new holdings company—British Motor (Holdings)—would appear to be a development that could lead to further acquisitions, and it will be surprising indeed if the now two-year-old talk in the market of a likely BMC-Rover link-up ceases.
So far as the latest bid is concerned there is little doubt that there are advantages to both parties, particularly from the point of view of meeting severe world competition. And so far as the market's reaction was concerned, initially Jaguar A shares were marked up 4s. 3d. to 36s. 6d., whereas BMC were lowered 4-id. to 13s. 6d.
One thing seems almost certain: that we are in for a period of market guessing as to whom may be likely to bid for whom in the great build-up of units in this section of the market, a process that has been going on during the past couple of decades.
Martin Younger