In Your Opinion
22nd July 1966
Page 55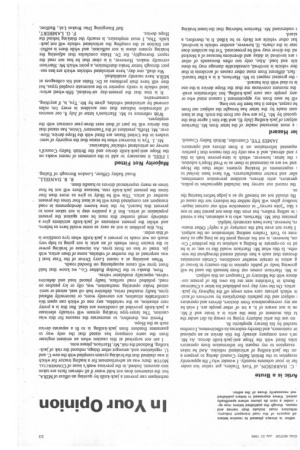 Page 55, 22nd July 1966 —
In Your Opinion
Close
Artie is a Brute . C. HARRISON, of York Trailers, got rather hot under liar in your columns recently. I wonder why? He apparently exception to the British Safety Council daring to prepare a on the jack-knifing of articulated vehicles. And he takes exception to my request for information from operators ides fitted with the Hope anti-jack-knife device. As Mr. on's own company already fits this device as an optional Or customers, and thereby endorses its effectiveness, I confess )uzzled by his literary apoplectic fit.
. no use the attic industry trying to sweep its dirt under the k.t this moment of time the attic is a brute and if Mr. on is not aware of it, a lot of other people are. I wish he see my correspondence from doctors, drivers and operators i subject and the pathetic descriptions by survivors of acciin which private cars were swept off the highway by jack, artics. On the very day you published his letter a Chairman Bench in Yorkshire sent me his own file of protest cordence with the Ministry of Transport on this subject.
m Mr. Harrison comes out from beneath the sand he will growing body of public opinion in this country in favour of g artics in certain weather conditions. Certain extremists dvocate that such a ban should extend throughout the wininths. Is this what Mr. Harrison would like to see, or is he ed to co-operate in finding a solution to the problem? Colon, however, is not his strong point for as long ago as June mote to York Trailers seeking information on the subject. I have not even had the courtesy of a reply! Other manuTs, however, have been extremely helpful.
predate that Mr. Harrison, who is a salesman, has a vested t in selling trailers, but even this does not permit him to use s like "joke survey" in connection with our current inquirhoolboy gibes will help neither the industry nor the cause of He should not set himself up as a judge before hearing the ce.
the record our survey has included approaches to police, Iperators, artic drivers, accident prevention committees, ailer and tractor manufacturers. We have been invited to
experiments of braking systems other than the Hope and we are as interested in them as in Fred Hope's solution. 3 the latter, however, which is time-proven both in this y and abroad, and it was only for this reason that I particuequested information on it from drivers and operators.
JAMES TYE, Controller, British Safety Council. ler Hazard ; a most interested reader of the letter from Mr. Harrison subject of jack-knifing (July 8), and like him I agree that the quoted by Mr. Tye are way out from the truth. But at least uest made by the latter has brought the subject out from he carpet, 'where it has been for too long.
will be seen from my appointment I cannot mind who or any people can cure jack-knifing, but information availthe moment convinces me that the Hope device is the one Fe to deal with this hazard.
t the greatest respect to Mr. Harrison, it is a killer hazard. I fact, different from most other causes of accidents in that ther vehicle is involved, considerable damage may be done icle and load. Also, only too often thousands of other ; are involved in delay and diversions because of a blocked nd the driver may well be prosecuted. Yet the accident does pear in the charts. If, however, another vehicle is involved, hat other vehicle are likely to be killed. It is, therefore, a azard.
I understand Mr. Harrison believing that the latest braking
techniques can prevent a jack-knife by quoting an officer of MIRA, but the statement does not hold water if all relevant facts are taken into account. Indeed, in the previous week's issue of COMMERCIAL MOTOR there was an advertisement for a leading tractor for which it was claimed that the braking system complied with the new C. and U. regulations and, amongst other things, reduced the risk of jackk nifing. Reduced the risk, Mr. Harrison, please note.
I am not surprised at this caution when an eminent engineer from the same company has stated that the only way to guarantee freedom from jack-knifing is to fit a separate device such as the Hope.
Permit me, therefore, to enumerate the reasons for this wise caution. The latest-type braking system will virtually eliminate a jack-knife provided all conditions are ideal. But this is a pretty rare situation, as the variables, any one of which can upset this comfortable situation, are unevenly worn, or incorrectly inflated tyres, badly matched twins, defective hub oil seal, seized or semiseized brake operating mechanism, wet, oily or icy patches on road, polished road surface, badly placed load and defective valves, especially modulator valves.
Now, thanks to the Dunlop Rubber Co., we know that bald front tyres will cause aquaplaning on flooded roads.
When assisting at a recent Lorry Driver of the Year heat I was surprised at the number of vehicles, some of them artics, with tread or less on front tyres. An increase of braking power to the tractor front wheels of an attic is not going to help very much on wet roads to prevent a jack-knife when tyre condition is of this order.
No, this problem is not as easy as some would have us believe, and whilst the present estimates of jack-knife accidents give a relatively small number this must be seen against the present population of artics. But if a positive step is not taken soon to prevent this hazard, by the time known developments in road transport are completed there will be at least four times the present number of attics. This will be likely to give us more than four times the present jack-knife rate, because there will not be four times as many experienced drivers to handle them.
R. B. DANIELL, Road Safety Officer, London Borough of Ealing.
Majority Not Fitted I FEEL it necessary to add to the comment of recent weeks on the Hope anti-jack-knife device and the British Safety Council's survey on articulated vehicles' behaviour.
Mr. J. Tye is incorrect when he states that the majority of semitrailers in the United States are fitted with the Hope device. However, Mr. Hoffa, president of the Teamsters' Union, has stated that this device will be part of their next three-year contract with the employers.
With reference to Mr. Harrison's letter of July 8, our sources of information indicate that one accident in every Im. miles covered by articulated vehicles, given by Mr. Tye, is, if anything, conservative.
It is true that the present-day air-braked, fifth-wheel articulated vehicle is vastly superior to the automatic coupled types, but they still have their problems as Dr. Hales and his colleagues at MIRA have recently established.
We shall, one day, have articulated vehicles which are less suspect through better brake distribution, a point which Mr. Harrison correctly makes. However, it is clear that he has not read the report thoroughly, for Dr. Hales concludes that adjusting the braking system alone is not sufficient, and while there is sufficient friction at the coupling the articulated vehicle will not jackknife. This, I must emphasize, is exactly the thinking behind the Hope device. F. G. LAMBERT, Self Energising Disc Brakes Ltd., Bedfont.