Bird's Eye View
22nd July 1966
Page 52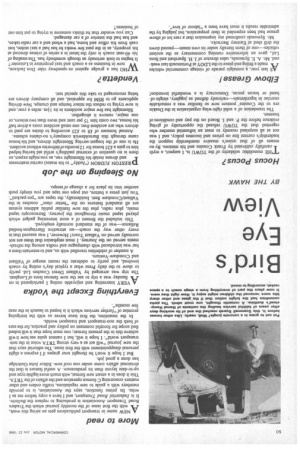 Page 52, 22nd July 1966 —
Bird's Eye View
Close
BY THE HAWK
Hocus Pocus?
THE monolithic solidarity of the TGWU is, I suspect, a myth carefully cultivated by Frank Cousins and his minions. By no means all of that union's massive membership support the leadership's current line on prices and incomes policy, and I was not at all surprised recently to meet an influential member who regretted that the TGWU refused the opportunity of giving evidence before the P. and I. Board on the pay and conditions of busmen.
The translation of a solid right-wing organization in the Deakin era to the Cousins' posture now so familiar was a remarkable exercise in legerdemain—variously defined as jugglery, sleight-ofhand or hocus pocus. Democracy is a wonderful invention!
Elbow Grease!
A. last year, a nostalgic parade of vintage commercial vehicles made a fitting end-piece to the LDOY at Portsmouth last weekend. Mr. A. E. Symonds, sales director of J. H. Sparshatt and Sons Ltd., gave an informative running commentary as the ancient vehicles—one of them literally under its own steam—passed down the drill shed at Eastney Barracks.
Mr. Symonds confirmed my impression that a rare lot of elbow grease had been expended in their preparation, but judging by the admirable results it must have been a "labour of love".
More to read
ANEW name in transport publications gets an airing this week, with the first issue of the monthly journal which the Traders Road Transport Association is producing to replace the Bulletin. It is Industrial Road Transport, and I have a copy before me as I write. Its prime function, says the Association, is to provide members with a guide to new regulations, traffic orders and other matters concerning C-licence operation and the affairs of the TRTA. This it does in a smart new format, with much more legible type and up-to-date layout than its predecessor. A useful feature is that the divisional affairs come under one roof now. Editor John Guttridge has done a good job.
But I hope it won't be thought sour grapes if I express a slight personal disappointment with the first issue. The editorial says that the new journal "will act as a very strong TRTA voice in the nontransport. world". I hope it will, but I cannot quite see how it will achieve this in the present format; one must hope that it will indeed find scope for forceful comment on policy and practice, for the ears of both the non-transport and transport worlds.
In the meantime, the first issue leaves us with the intriguing promise of "further services which it is hoped to launch in the next few months".
Everything Except the Vodka
AVERY interesting and enjoyable outing I participated in on Sunday was a trip to see the now famous lions of Longleat. The trip was arranged by Valliant Direct Coaches Ltd. partly to show to the daily Press what a typical day's outing by coach involved, and partly to celebrate the recent merger of Valliant and Cronshaw-Venture.
A number of celebrities travelled with us, and to entertain them a bar was introduced with champagne and vodka among the refreshments served on the Journey. I must emphasize that these are not normally served on Valliant Tours! However, I was assured that in every other way the coach—an attractive Harrington-bodied Reliance—was of the standard normally employed.
This included the fitment of a most interesting gadget which played taped music throughout the journey. Stereoscopic taped music, plus radio, plus the now familiar public address system are all standard features on the "better class" coaches in the Valliant/Cronshaw fleet. Incidentally, the tapes are "pre-packed". You just press a button, out pops one tape and you simply push another into its place for a change of tempo.
No Sleeping on the Job
PRESTON JUDSON ("Juddy" to his mates) carries mattresses and divans inside his Silentnight van, as you might expect, so there is no question of external pa.dding's artful aid having helped him to gain a £25 bonus for 12 months of deliveries without accident. He is one of the longest-serving Silentnight drivers, and his bonus came through this Bamoldsvrick company's no-claims scheme.
Annual bonuses of £8 to £25 according to duties are paid to drivers who are accident-free; one small accident costs a driver half his bonus, two costs him 75 per cent and more than two minors, or one major, remove it altogether.
Silentnight has few major accidents in its l+rn. miles a year, and is now trying to reduce the minor bumps and crimps. New driving applicants go to BSM for appraisal, and all company drivers are being encouraged to take this special test.
Vendetta?
WHO has a grudge against ex-speedway rider Don Jackson, now in business as a coach and taxi proprietor in Leicester? It begins to look seriously as though somebody has. The stealing of his 40-seat coach is only the latest in a series of crimes directed at his property, as in the past few weeks he has had a taxi stolen, lost cash from his office and home, had a wheel and a car radio taken, and has had the interior of a car damaged.
Can you wonder that he thinks someone is trying to put him out of business?