r pressure unit
22nd July 1966
Page 51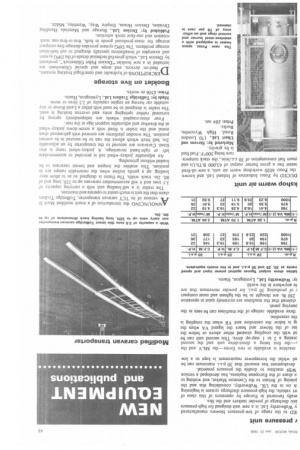 Page 51, 22nd July 1966 —
r pressure unit
Close
.ED to the range of low-pressure blowers manufactured y Wellworthy Ltd. is a new unit designed for high-pressure atic discharge of powder tankers and the like.
erally favoured in Europe by operators of this class of wt vehicle, the high-pressure discharge system is beginning .11 on in the UK. Wel!worthy, considering this and the joining of Britain to the Common Market, and wishing to a share of the European business, has developed a version WS9 machine to double the pressure potential.
development has ensured that 30 p.s.i. maximum can be ed whilst the horsepower requirement is kept to a low
machine is available in two forms-the Mk.V and the k-the first being a direct-drive unit and the second prating a 2 to 1 step-up drive. This second unit can be ed with the coupling situated either above or below the the of the blower and bears the legend VA when the ig is below the centreline and VB when the coupling is the centreline.
three available ratings of the machines can be seen in the panying panel.
claimed that the machines are extremely quiet in operation 250 lb. are thought to be the lightest and most compact of producing 30 p.s.i. for powder moVement that are Ile anywhere in the world.
)y: Wel[worthy Ltd., Lymington, Hants.