wton Dewandre bring tke kit supplies into open
22nd July 1966
Page 49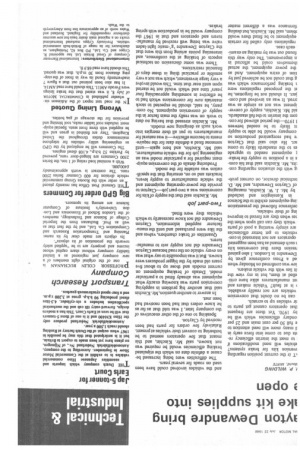 Page 49, 22nd July 1966 —
wton Dewandre bring tke kit supplies into open
Close
I. P. WILDING
NechE, M1RTE
Cf is the current position regarding iversion kits for brake systems? ehicles will need modifications if to meet the interim efficiency reits due to come into force early in
d many more will need attention to e full 50 per cent main and 25 per .ondary efficiencies which will be by 1970. Yet there are frequent that operators cannot get parts to :ir vehicles up to scratch.
can be no doubt that conversion vehicles are not readily available. ) is at fault? Vehicle makers and :nt manufacturers alike have critielled at them, but in my view the it lies with the vehicle makers.
iew was confirmed on Monday when .ed. a Press conference given by Dewandre in London. I also gained ression there that conversion kits such demand as has been suggested operators are not interested in convehicles to get better efficiencies are simply wanting a pool of parts which they can call upon when the les when they are forced to improve ing of their vehicles.
onference followed the presentation .ing-equipment exhibit to the Science in Kensington and included by Mr. L W. Kinchin, managing of Clayton Dewandre, and Mr. D. technical director, on current prob
ig with the situation regarding conits, Mr. Kinchin said that his corns in a position to supply the brake; equipment needed to upgrade es to the standards likely to come ect He also said that Clayton -e had reorganized production so company would be able to supply it likely to be needed between 11970—the period allowed for contom the interim to the full standards. aid Mr. Kinchin, supply of converipment was not as simple as was erred. It was an involved and coinject It should not be forgotten, he at the proposed regulations were
braking performance which was g that could not be achieved just by tion of extra equipment. And as the power equipment, the actual themselves could be affected in n improvement The only way this found out was by making an examieach case.
regulations only called for certain equipment to be fitted there would 3blem, said Mr. Kinchin, but dealing form ance was a different matter and the vehicles involved could have been used on roads for several years.
The difficulties were being increased because a definite date on which the stipulated braking efficiencies would be required was not known, said Mr. Kinchin, and this meant that few operators seemed to be bothering to convert their vehicles at present. Relatively few orders for parts had been received by Clayton.
Speaking to one of the other executives of the company later, I was told that as far as he knew orders that had been received had been met.
In answer to another question, Mr. Kinchin said that another big problem in supplying conversion parts was knowing exactly what equipment was already fitted to a particular model. Details of braking equipment on current models and those up to about five years old made by the bigger producers were known. But it was impossible to say what was on every vehicle on the road because Clayton Dewandre did not supply sets to manufacturers.
Quantities of brake chambers, valves and the like were purchased and until the manufacturer supplied information, Clayton Dewandre did not know necessarily to which vehicles they were fitted.
Two-part job
Mr. Kinchin said that the supply of kits for conversions was a two-part job—Clayton to provide the power-operating equipment and the vehicle manufacturer to supply levers, brackets and so on, ensuring that the specification was suitable for the model.
Producing details of the conversion equipment required for a particular model was an engineering job for the vehicle manufacturer, said Mr. Kinchin, and here again—until someone fixed a definite date for the requirements to become effective—it was natural for manufacturers to put all their energies into work such as designing new models.
Mr. Kinchin stressed that having no date to work on was really the main factor in the supply of conversion equipment. No company, he said, should be expected to stock materials now for conversions which had to be effective in something approaching four years' time and which would not be started upon until near that time. This would involve a very large investment, which was not a very sensible or practical thing in these days of financial restrictions.
There was some discussion on technical aspects of braking at the conference, and interesting points arising from this were that the Clayton Dewandre g'-matic light-laden valve was being well received by manufacturers and operators and that in 1967 the company would be in production with spring brakes.