Suspension by Mr. Hanlon
22nd July 1966
Page 41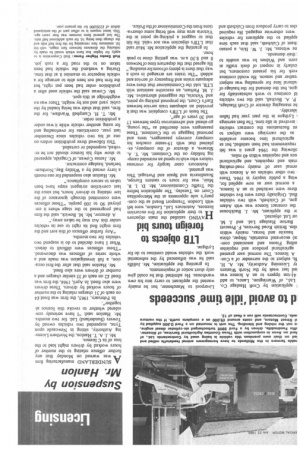 Page 41, 22nd July 1966 —
Suspension by Mr. Hanlon
Close
ASUNDERLAND manufacturing firm was warned on Monday that any further offence relating to the number of hours worked by drivers might lead to the loss of its C licence.
Mr. J. A. T. Hanlon, the Northern Licensing Authority, sitting in Newcastle upon Tyne, suspended two vehicles owned by Towers (Sunderland) Ltd. for two months. Mr. Hanlon said: "I have seriously considered whether to revoke this licence altogether".
In February, 1965, the firm was fined £4 on each of 31 charges relating to the number of hours worked by drivers. Three drivers were also fined. In April, 1966, the firm was fined £2 on each of 35 similar charges and a number of drivers were also fined.
Mr. Hanlon said that after the first occasion, a full investigation was made and a whole series of offences was discovered. "These offences were difficult to detect_ What I have decided to do is suspend two vehicles for two months.
"Any further offences of this sort and the firm might find its right to use its vehicles under this Act may be taken away."
A director, Mr. M. Bewick, said the firm had progressed to the stage where it employed 90 to 100 people. "These offences were committed through ignorance of the law relating to drivers' hours, but since the last conviction stringent steps have been taken to secure compliance."
Mr. Hanlon also suspended for one month a lorry owned by a Whitley Bay, Northumberland, haulage contractor.
Mr. James Cowan, of Cragside, appeared to show why his licence should not be revoked, suspended or curtailed.
This followed three prohibition orders on one of his two Vehicles since December last year, convictions for overloading and for using another vehicle while it was under a prohibition order.
Mr. T. H. Campbell Wardlaw, for the firm, said that shale was being loaded by the cubic yard and not by weight. There was no weighbridge at this spot.
Mr. Cowan said the vehicle used after a prohibition order had been put right, but the firm had not been able to arrange for a vehicle inspector to examine it at that time. During a weekend the vehicle had been taken on to the road for a rush job.
Hull Seeks Higher Fares: Hull Corporation is to apply for higher bus fares which would be made by reducing the distances between fare stages. with the 3d. minimum fare remaining for the first half mile and the charge then being hi. for each additional half mile. The last general fares increase was four years ago. This latest request is to offset part of the anticipated deficit of £120,000 for the present year.